Description
Want to meet Singapore's social entrepreneurs and get a unique experience in one of the country's hot-beds for social innovation? Join us next Saturday, 7th July (9am-11.30am) with your family and friends at Margaret Drive Estate, in Queenstown for this unique experiential journey to Citizen Farm and Seeds Cafe! Sign up as a group (2 or more) and get $5 off ticket prices each!
The trail includes:
1. Introduction and tour of Citizen Farm (1h)
Ever wonder how it is possible to grow fresh local produce in Singapore's urban city landscape? In this exclusive tour of Citizen Farm, learn more about what it takes to harvest your own produce in the backyard of this concrete jungle we call home.
Citizen Farm is established by a passionate community of urban farmers working to produce fresh and tasty produce for the local community through innovative technologies. They also do good by providing employment to the socially disadvantaged in the community. Join us to learn more about their urban farming model and how they strive to achieve food sustainability in Singapore!
*tip: Regular tours of Citizen Farm are priced between $20 - $25. Join us to enjoy a special rate at $15 when you bring a friend! PLUS it covers not just one, but TWO field trips! Check out the other one below.
2. Introduction and Visit of Seeds Cafe at Rainbow Centre (1.5h)
Enjoy cafe-hopping? Want to discover new chic cafes to add on to your ever-expanding list? Look no further! Come join us in a visit to Seeds Cafe to have a taste of their wide range of delectable sweet offerings. Take your cafe-hopping adventures a step further by supporting the social impact created by Seeds Cafe, whereby students with special needs are empowered through vocational training to gain employment in the F&B industry.
You are also invited to drop by the Seeds Monthly Market, which features a range of craft products, baked goods and fresh local produce put by Rainbow Centre's students, as well as local social enterprises.
Come join us and have a taste of Seeds Cafe sweet treats! Refreshments will be provided.
---
Activity Details:
Date: 7 July 2018
Time: 9 - 11.30am
Reporting venue: Citizen Farm (60 Jalan Penjara, Singapore 149375)
---
JOIN THE MOVEMENT FOR GOOD!
About Wake Up Your Idea!:
"Wake up your idea" is a singlish phrase, commonly used in the army to ask someone to "stop dreaming". Similarly, we want members of the public and aspiring changemakers to gain awareness and take action to create social and environmental change in their community.
Wake Up Your Idea! is a movement to drive social innovation and positive change. Initiated by UNFRAMED and hosted with the community, it is a celebration of changemaking and a call to action for doing good.
Join us to be inspired and let's hop on board this movement!
For more information, please visit www.wakeupyouridea.la.
Facebook: https://tinyurl.com/wuyifb
---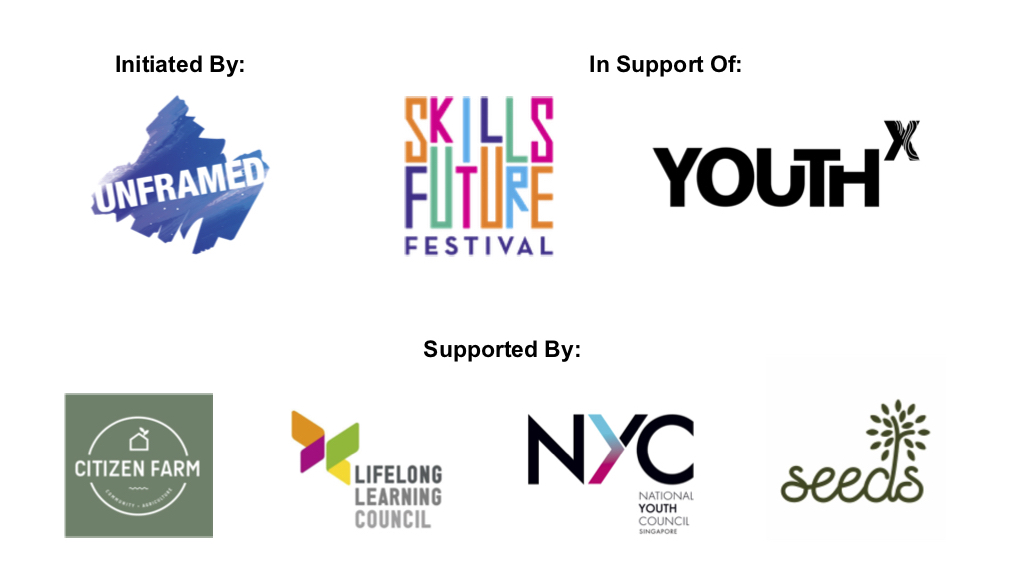 ---
UNFRAMED reserves the right to revise the event should circumstances so warrant. In the event of any change in date or venue, or the cancellation of the event, the participants will be notified prior to the event. Please note that there is no refund for any ticket purchased.
By filling up this event, I hereby agree and consent that my personal data provided in this form may be collected, used, processed and disclosed by UNFRAMED and its partners for the purposes of processing my registration to the event, invitations to future events and online surveys; marketing and promotional activities on print and social media, in accordance with the Personal Data Protection Act 2012 and all subsidiary legislation related thereto.