Description
"The Kingdom of God must strike back with His truth, His transformation, His life, in turning the marketplace the right side up for Jesus Christ and making a difference as salt of the earth and light of the world."
Rev Edmund Chan
In the marketplace, you may be a leader in an organisation or a small team. You may have decades of experience or you may have just started out. Regardless of your role, position or experience, you have been placed by God at your place of work for a purpose – you are the Salt and Light in the Marketplace! You are called to be a witness for Christ and to impact your workplace with God's redemptive grace. Being a witness for Christ by integrating Christian values at workplace is challenging! Thus, a marketplace community with Christ's followers that provides support and wisdom is vital for you to minister God's grace at work.
Marketplace Conference 2018 picks up momentum in its third run, with a crucial theme of Standing Together, which focuses on integrating our Christian values in workplaces and inspiring us to be part of the vocation-based Marketplace Support Groups (MSG) to support one another to be witnesses for Christ at workplaces and to be mentors to young professionals.
The plenary and workshop speakers will share God's heart and practical examples of how to be a witness for Christ in the marketplace. Participants will be inspired to impact the marketplace with God's redemptive grace. And they will discover the best way to do it is to stand together.
There is no better time to mobilise the people of God for the work of ministry in the marketplace than now.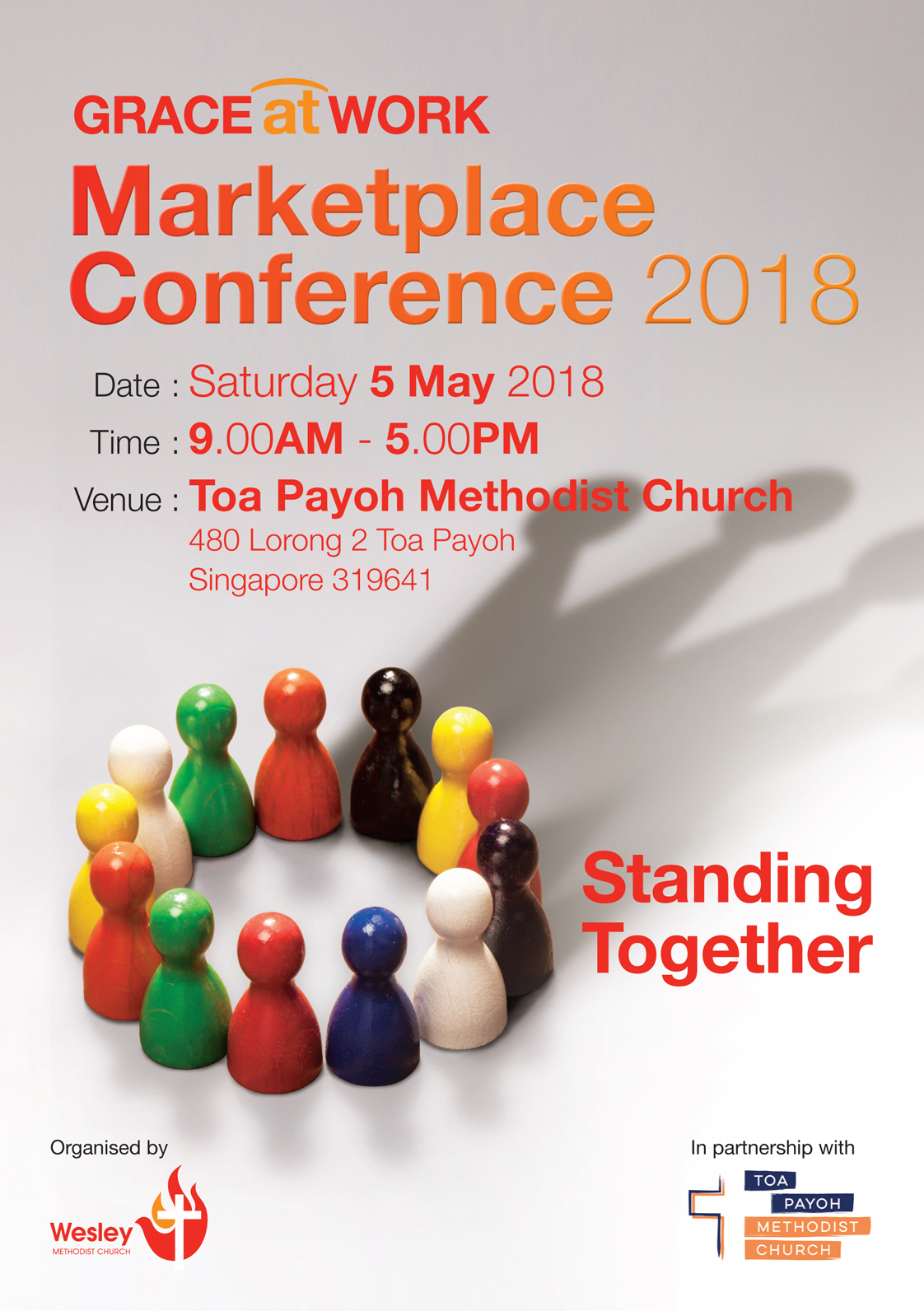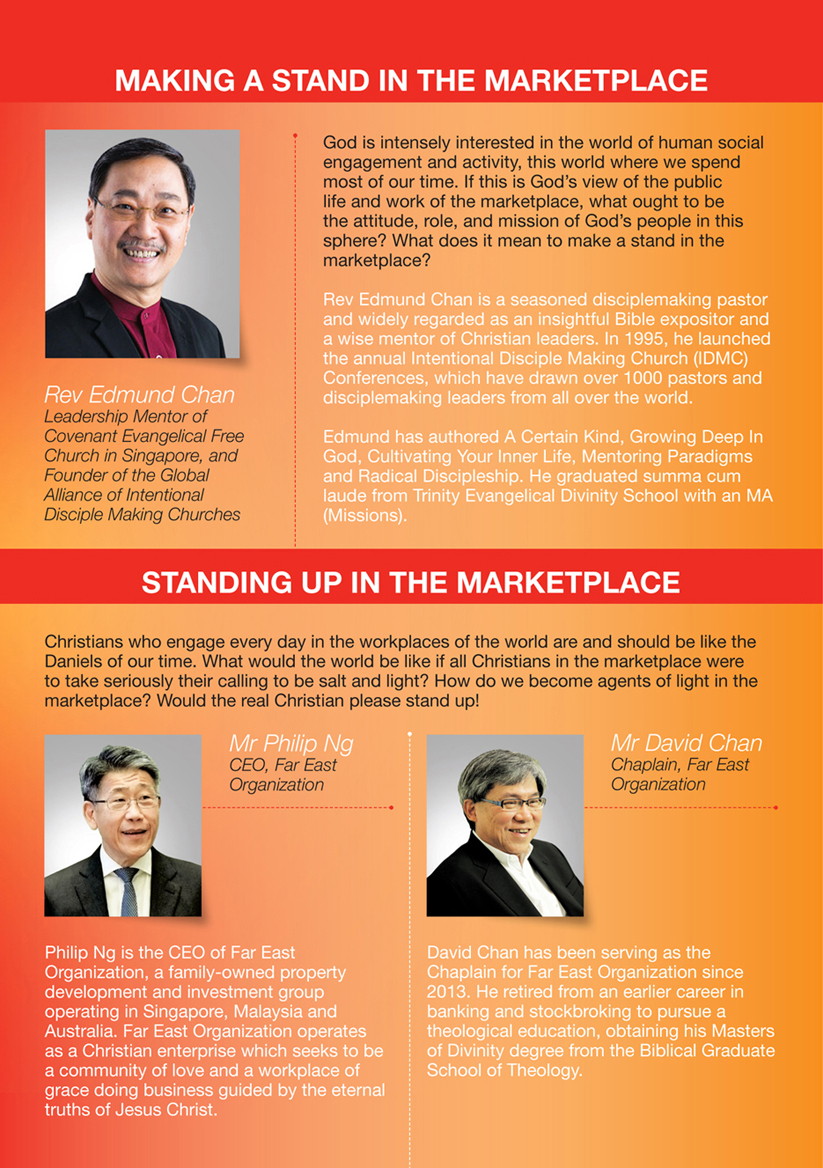 MARKETPLACE CONVERSATION
BuildingCommunity in the Marketplace
Rev Dr Tan Soo Inn and Friends
One of the greatest opportunities afforded to followers of Jesus Christ is the ability to live out our faith in the workplace. But the reality is that we are not meant to do it alone.
Rev Dr Tan Soo Inn, together with a panel of marketplace friends, will share and inspire us to build community – to be part of the vocation-based Marketplace Support Groups (MSG), to sustain and support each other to be salt and light in the marketplace.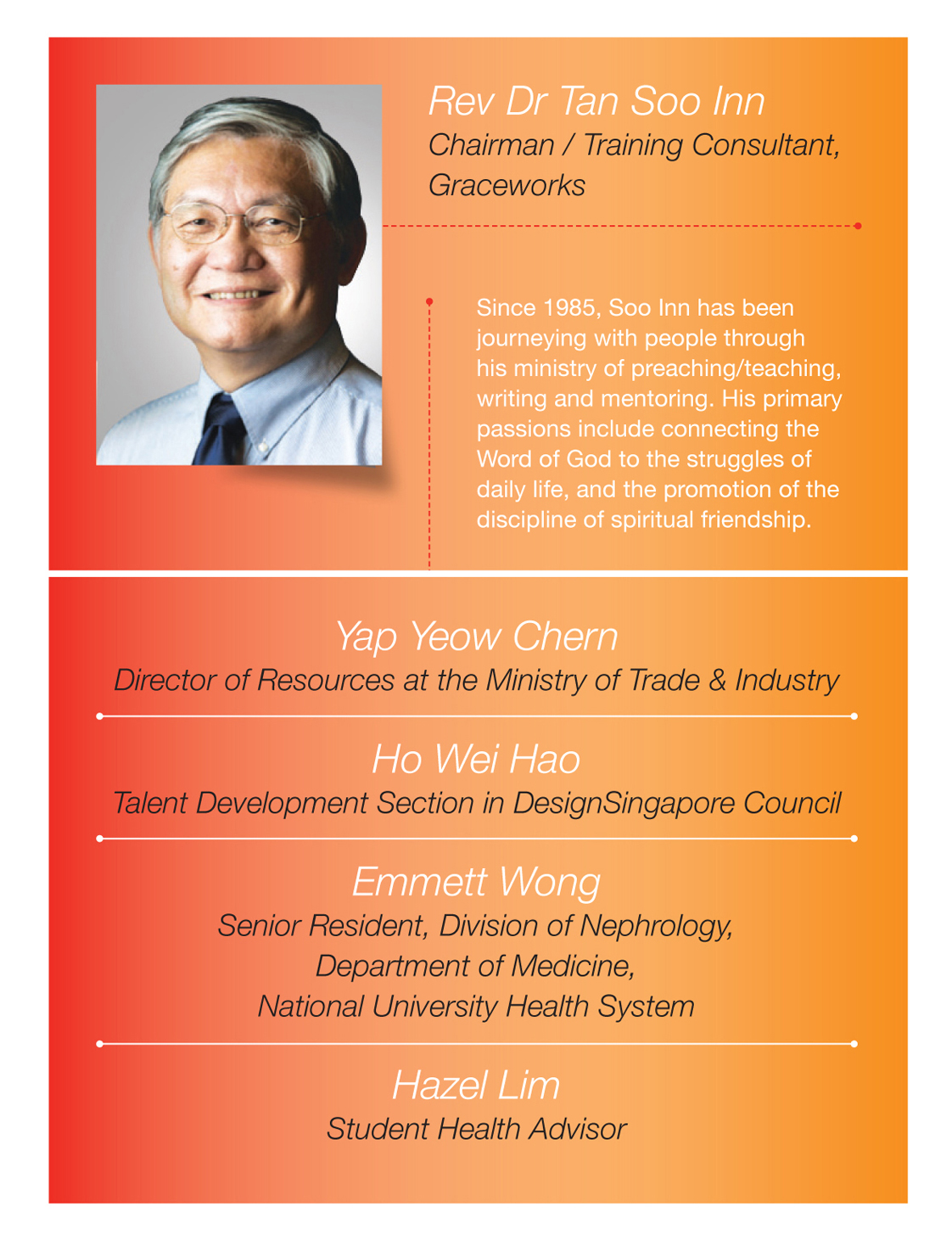 Workshops – Navigating Life Transitions
Whatever our season, God wants us to accept joyfully each season of our work life and to make the most of it.
In these workshops, learn practical steps on how various professionals cope with life transitions; the lessons learnt in successes and failures; the joy and the challenges of being a witness in the midst of life transitions.