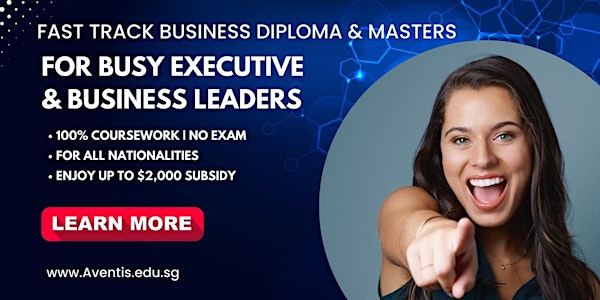 MBA and Postgraduate Diploma for Busy Professionals - Dec 8th
Fast Track Business and Management Diploma for Busy Professionals
About this event
Further Your Career with in-demand Business and Leadership Qualification
Gain 360 Business Acumen With Accounting, Marketing And Management Skills. Transform your career with this hands-on, flexible part-time Postgraduate Diploma in Business Administration. MSc Global HR Management, Marketing, Finance and MBA.
For Working Professionals above 30 Years Old
Design for busy professional, learn how you can upgrade and earn a professional qualification, business diploma and Masters degree in just 3 to 10 months part-time
100% Coursework | No Examination
Flexible Modular Payment
For mature candidates above 30 years old
Flexible Modular Payment
Over 15 Years of Successful Track Record
Join over 3,000 Success Alumni in Singapore. Developed to Shape Innovators, Business Leaders & Managers Gain Global Business Insight!. Maximize Your Career Credentials and Potential with a QAA (UK) Accredited Masters degree
Join Scholarship Talk - Learn more
Enjoy up to $2,000 Scholarship Grant for Jan 2023 Intake.
RSVP Today to fid out more or visit www.aventis.edu.sg