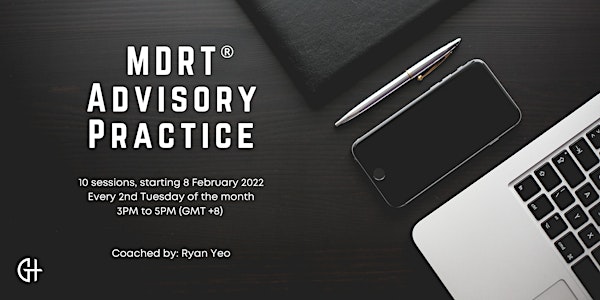 MDRT Advisory Practice
MDRT Advisory Practice Workshop
About this event
MAP is a 10 sessions workshop that is specially designed to help aspiring financial consultants achieve MDRT consistently every year.
Dates: Every 2nd Tuesday of the month
8 Feb, 8 Mar, 12 Apr, 10 May, 14 Jun, 12 Jul, 2 Aug, 13 Sep, 11 Oct, 8 Nov 2022
Time: 3 PM to 5 PM (GMT +8)
About the Coach
Ryan Yeo started his financial advisory career in 2007 and achieved MDRT every year since then. Till date, his achievements include obtaining 2 years of Court of Table® (COT) and 5 years of Double MDRT®.
The most amazing part about his sales growth, is that he started with little or no network and within a short span of time, he managed to acquire a large network of professionals, expatriates and overseas clients from more than 20 countries, just by using referrals as the sole method of prospecting.
He joined GH Consultancy in 2020 as a Sales Coach to impart his skills and knowledge to aspiring producers in the region.