Join our community of 80+ people from 20+ countries! (exact dates of the start of the program will be announced after the registration)
About this event
This program is for people who are ready to step up and take responsibility for their lives. For those who are ready to do the required inner work in order to discover their full potential so that they can help and support others during these challenging times that we are facing right now in the world. You can no longer play small. IT IS TIME TO DISCOVER YOUR GREATNESS.
"Me. Mandala. Money. Magic. Marathon" (or M5 Program, how we call it in the inner circle) is a leap frog jump through years of life coaching, denial, self-healing, soul-searching, conscious activations and unnecessary pain that you have the power to stop, right now. IF YOU ARE COMMITTED TO YOURSELF AND ARE READY TO SURRENDER, KEEP READING.
Throughout this 4-week online course you will bring to the surface all that is no longer serving you, that has been tripping you up and stopping you from growing into your true authentic self. In four major areas of your life, this deep journey of learning and self-reflection will clear out the cobwebs of your mind, and empower you to elevate to the next level.
This is a highly transformative program that goes for 4 weeks …and continues for life.
ABOUT THE COURSE
During the program you will deep dive into the following 4 aspects of your life.
WEEK 1: ME
You are a multiverse. It all starts and finishes with you. You can do your life's work only when you are complete.
Do you actually know who you are and who you want to be? Have you been hiding yourself or making yourself small to fit in? Have you been afraid to step into your own power? This week is our foundation level where we begin to unravel the constructs you have built around yourself, hiding the true you. Where you come to terms with that fact that you are enough. We will identify the aspects of you that need to be healed, transformed and illuminated.
WEEK 2: MANDALA
Relationships are a key aspect of human life. Success and happiness are interlinked to our mastery of relating to other people.
This week we move into deep healing and forgiveness, for all the men and women in your life. This process starts with healing relationships with your mother and father. The interplay between masculine and feminine energy within you will come up, with any imbalances being corrected. Uncover different ways of relating to men and women, discover what relationship is best for you for your true desires, and how to create it. Gain a deeper understanding of self.
WEEK 3: MONEY
The root of all evil or the ticket to freedom? Maybe both, maybe neither. Unlock your deep seeded money blocks and reframe your energetic relationship.
If you've always struggled with money, kept your head in the sand, hate it, love it - this week will help you unravel it all. We will look at your relationship with money and any hidden fears and blockages you might have. A triggering week for some, that will reward you by breaking through your limiting beliefs. Abundance starts in your mind and only then, manifests as a physical reality.
WEEK 4: MAGIC
The metaphysical world of miracles and manifestation is where your higher self comes together to thrive with your natural gifts and talents.
Once you've cleared through the blockages, smashed your limiting beliefs, and started to surrender to your authentic self - everything comes together this week. We will go beyond 'ourselves'. Beyond Me, Men/Women, Money - directly into the collective. You will be reminded of the magic that exists in each of us, everything around us, and that we are all deeply connected. You will be given the tools to tap into that inner peace you've been craving and embrace the loving kindness to keep you going. Learn to create from stillness, master the art of 'non-doing', being in flow, so that you are able to channel your vision of creation.
A few words of warning:
> This is a marathon. The more you give the more you get. And the effects will be felt for months afterwards. While you will have confronted a lot of your blockages, and have tools to elevate to the next levels, it is a practice. And it will be up to you how you harness the power you will claim.
> This program is not for everyone. You will be guided gently yet deeply out of your comfort zone into your full potential, which requires you to look at all parts of yourself that will not always be easy.
If you...
• Feel like you are the one standing in your own way
• Are searching for that home feeling and are ready to come home to yourself
• Are willing to deep dive and illuminate all parts of yourself
• Ready to be surrounded by conscious people who elevate and inspire
Then this course IS for you!
If you are…
• Not ready to do the work
• Not ready to step up and confront yourself
• Unwilling to open up and be true to yourself and others
• Unwilling to trust the process and surrender
Then this course is NOT for you.
Previous participants have said that this is "one of the best and deepest programs" they have ever experienced, and had profound shifts in all aspects of their lives.
COURSE STRUCTURE
Now a few words about the structure of the program itself. It is created in a way for you to have enough time to do everything you need to do. This program is for urban people, who, like many of us, already have a full schedule!
PROGRAM DELIVERY METHODS: Telegram + Facebook + Zoom
You Will Receive:
• A set of teachings/tools/assignments/meditations delivered via the Telegram group - twice a week
• Access to a private Facebook community for group support, assignment sharing and communication with Yana
• Feedback and guidance from Yana who will personally check all your assignments and help you to look at all parts of yourself
• Exclusive guided meditations, unique healing techniques, coaching tools, inspirational material, sacred teachings… and more
• Five 1.5 hours Group Zoom Calls, where you will have a chance to ask Yana questions, share your experience, ask for support, receive personal guidance and mentorship, and cultivate group chemistry that leads to collective breakthroughs and higher levels of understanding
• Recordings of all group calls in case you are not able to attend some of them live
• Sustainable deep inner and outer transformation that leads to healings and breakthroughs in ALL AREAS OF YOUR LIFE
=> You will be able to access all content and teachings at any time. The only fixed timeframe is to complete assignments twice a week and submit them by a certain time and date.
=> All zoom calls will be recorded and you can listen to them at your convenience in case you miss some live sessions.
=> A tentative schedule for the zoom calls sessions (exact time and date will be announced upon the group completion):
Wednesdays and/or Thursdays 8pm - 10pm SGT/HK/Bali (all calls will be recorded, you can listen to them at your convinience any time!)
The exact timing for the zoom calls might be adjusted after we know "who is in the group". We have people from all over the world participating in this program and therefore are trying to accommodate various time zones. Usually we just put the timing to vote and trust the collective decision making process!
Questions? Email to team@yanafry.com or WhatsApp to +65 9226 2509.
PAYMENT (a sliding scale)
To support people during these challenging times, I offer "a sliding payment scale". Given everything that is still happening in the world right now, I would like to help as many people as I can. To make the decision even easier for you, I am completely taking "money matters" out of the equation, when it comes to your decision making process. Do you want to join M5 Program? Come! You don't have to pay anything in advance. Simply register in the form below and let's start the journey. Somewhere in the middle of the course (after you have done enough inner work), you will be given an opportunity to make a payment based on a sliding scale (usually people pay something between $333-$888, however i don't set any boundaries neither above nor below - it is your free choice).
A big part of your payment will be shared with 11 nunneries and monasteries in India that I support as a part of my spiritual practice and philatropical contribution to the world. Let's rise all together to our fullest potential.
REGISTRATION
To register for this program, simply click this link and provide your details: http://bit.ly/m5reg2021
My team will be in touch with you with the details about the orientation call.
I am committed to creating a conscious community and therefore spending time to get to know each participant prior to the start of the program.
The main purpose of the orientation call is to tell you about the program (so that you understand what you are committing to) and to do a "mutual chemistry check".
WHY NOW?
Because it is TIME. The world needs active, compassionate, awake, activated, confident, purposeful, and conscious humans more than ever. I have been playing for many years with the idea to create a community of conscious leaders, who are ready to live their lives to the fullest and impact our society in meaningful ways. Now is the time!
WHO IS YANA?
I am a heart centered spiritual teacher, accredited life coach, international speaker, global facilitator, and an intuitive that inspires, empowers and educates globally. On a mission to demystify spirituality, I want to make it simple and a part of everyday life. For many years I have been following the calling of my soul, searching for the answers and challenging the status quo. I have been on a spiritual journey my entire life, which led me to study at mystical schools around the world learning practices from ancient to modern times. I am specializing in teaching conscious leaders, role models, community creators, influencers, CEOs, sustainable entrepreneurs, social catalysts and human potential experts how to embody full potential through the alignment of mind, body and spirit. My students are connected collectively through the shared vision of living life to the fullest, while honoring inner truth, doing what they love, making an abundance of money and impacting the world in a meaningful way. To learn more about my work, visit this Instagram account www.instagram.com/yanafry
WHAT PEOPLE ARE SAYING
We have had 80+ people from more than 20 countries participating in this program already this year. To watch participants' feedback, visit www.instagram.com/awakenhumans
"I am deeply grateful for the opportunity to be your Guide on this Journey of Awakening!"
~ Yana Adamanta Fry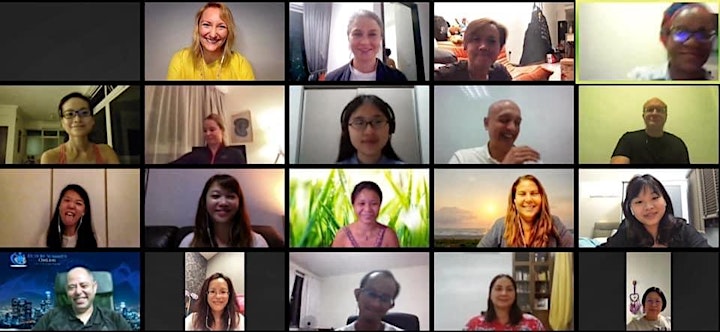 Organiser of Me. Mandala. Money. Magic. Marathon. (MAY/JUNE 2021)
Yana Adamanta Fry is an experienced retreat facilitator, motivational speaker, life coach, humanitarian, founder of YanaTV and Awaken Human. Yana has worked with numerous entrepreneurs, thought leaders and change makers, helping them to rediscover their full potential and inner peace. Yana designs and leads highly experiential and deeply transformational workshops, programs and retreats all over the world. She has a lifetime of experience in meditation, mindset, and mindfulness. Yana has been on a spiritual and personal development journey since she was a child and in the last 10 years she has became a go-to-guide for those, who want to unlock their True Nature.