Meditation Retreat in Bali 2018 - 4 days of meditation and relaxation
Description
Join us for 4 days of meditation and relaxation on our popular Bali Retreat!
Escape the busyness to the clear air and natural beauty of Bali. Experience a short meditation retreat that will relax, refresh and re-energise you, as well as equip you to deal more effectively with the everyday stresses and challenges of modern day living.
This year the retreat will be based on Buddha's teachings on the Four Noble Truths. To solve our human problems and enable us to find everlasting peace and happiness Buddha gave these profound teachings to use as practical advice. They offer us great insight into the nature of our existence and teach how to use this knowledge to follow an inner path that will lead us to complete freedom from suffering.
The Teachers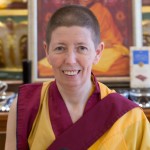 Gen Kelsang Drolkyi is the Resident Teacher of Kadampa Meditation Centre Singapore. She is a senior NKT Teacher who has studied extensively on the Teacher Training Programme and is qualified to teach both Sutra and Tantra. She has been the Resident Teacher at Madhyamaka KMC in the UK and taught internationally for many years.
Gen Kelsang Dornying is the Resident Teacher of both Kadampa Meditation Centre Australia and Kadampa Meditation Centre Melbourne. Gen Dornying has been teaching Kadampa Buddhism for over 12 years and is an
inspiring and light-hearted teacher of modern Buddhism who makesBuddha's teachings clear, accessible and applicable to modern life.
Bali is a destination well known and well loved for relaxation, natural beauty and spiritual discovery. This retreat offers us a rare opportunity to combine a visit to this beautiful island with the genuine inner peace and happiness that can be found by meditating on Buddha's sublime teachings.
The retreat will be at Prana Dewi Mountain Resort. Set in a tropical mountainside resort in gardens of lush unspoilt nature this retreat is a chance to escape the stress and busyness of life and experience the peace of meditation for yourself. Discover more about Buddhist teachings and be guided to the pure happiness and mental freedom that exists within our own heart.
Fees (in Singapore dollars)
Sept 7 - 11.
Prices are per person for 4 nights, including 3 meals a day and course fee.
Single $800
Twin $692
Triple $640 - available on request by email admin@nkt-kmc-singapore.org
Airport Transfer
For those wishing to book transport to and from the airport to Prana Dewi Mountain Resort, the cost is 500,000 (Indonesian Rupiah) per car one way. Each car has places for 6 people with luggage. Payment is by cash upon arrival, please register for this by emailing admin@nkt-kmc-singapore.org if you require this service.