Description
About The Event

Held in conjunction with the Medical Fair Asia 2016, the MedTech Workshop for Small and Medium Sized Enterprises (SME's) in Asia Pacific is co-hosted by the Asia Pacific Medical Technology Association (APACMed) and Messe Düsseldorf Asia. The workshop features an information-packed program tailored to the needs of medical device and IVD start-ups, digital health ventures, mid-sized MedTech R&D and manufacturing businesses, as well as research institutes, investors and service providers.

As a regional event that takes on a global outlook, participants of the MedTech SME Workshop 2016 will be provided practical, hands-on guidance and deep insights into the challenges and opportunities in the medical technology industry.
We have an outstanding line-up of speakers this year, including senior executives from Abbott, Becton Dickinson (BD), Johnson & Johnson, Boston Scientific, Vertex Ventures, Quadria Capital and Clearstate/ Economist Intelligence Unit.
What To Expect
We are delighted to present the 2016 program below: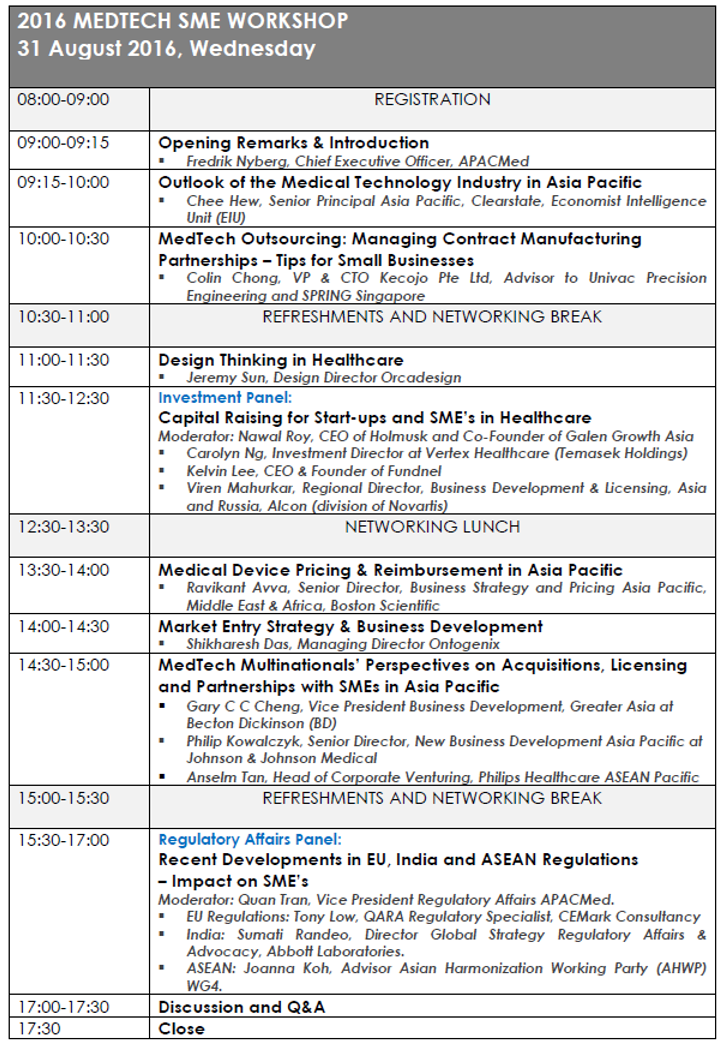 Over 90% of last year's participants said in our post-event survey that they would return to attend the MedTech SME Workshop 2016. This is definitely an event you would not want to miss!

Who Should Attend

What It Includes
Registration fee for the event covers:

Lunch

Morning and afternoon coffee / tea breaks

Full access to the Medical Fair Asia 2016 Exhibition
Supporting Partner Organisations

For any enquiries, please contact:
Kenes MP Asia
2nd Floor Pico Creative Centre
Singapore 339411
Tel: +65 6389 6616
Fax: +65 6292 4721
Email: medtechforum2016@kenes.com