Event Information
Location
Poh Tiong Beo Chinese Temple 普忠廟 <Gate>
201 Lorong 6 Toa Payoh
Singapore, 319385
Singapore
Heritage Craft in Chinese Temple: Step in a century old temple with Andy Yeo to explore the craft behind Door Gods and Effigies!
About this event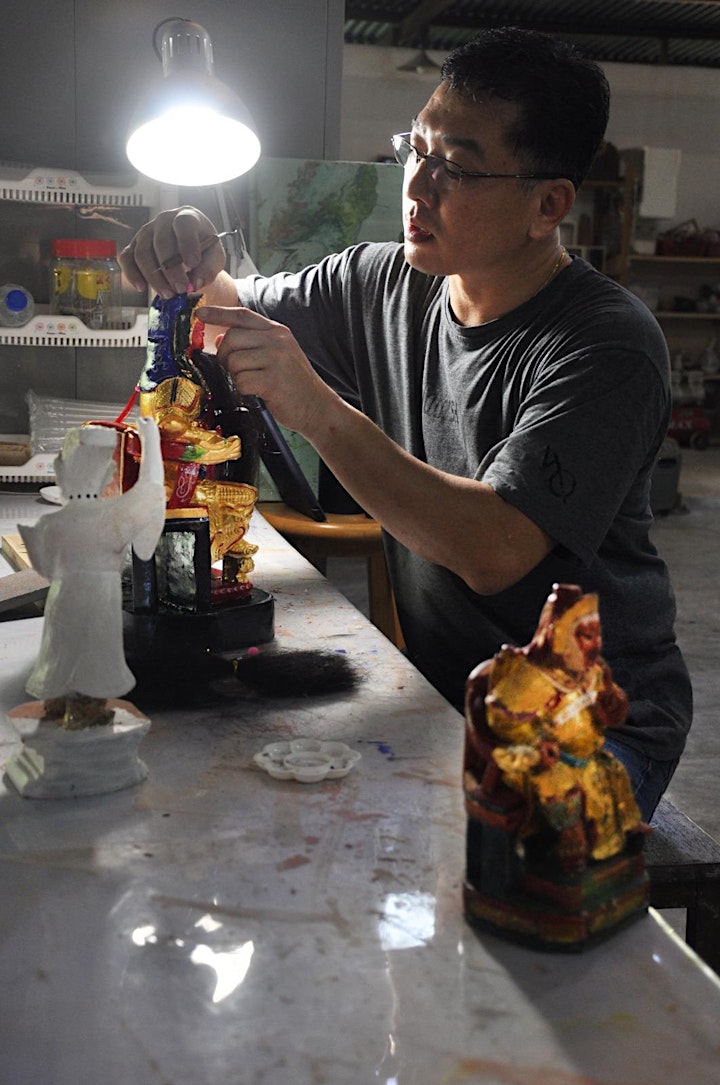 The temple is the canvas-Explore the world of Door Gods and Effigies with Andy Yeo!
Meet Andy Yeo!
Step into Poh Teong Beo Temple (普忠庙) at Toa Payoh Lorong 6 and you will see the artistry and craftsmenship of Andy in full display . From the bold and powerful Door Gods to the 6 feet tall lantern that hung from the ceiling. He has also repaired and restored the GIANT STATUES of the temple deities as well as mural arts that adorn the altar and walls in the temple.
Growing up in Chinatown, an area filled with vernacular Chinese culture, Andy was inspired to be an artisan of Chinese craft since 9 years old. His passion has developed and grown as he explores and innovate with the various traditional techniques of effigies and door gods on how own. Through experimentation and innovation, Andy and his team has has made new headways into revitalizing the traditional craftsmenship of restoring Door Gods and Deities' Effigies. This innovative process of restoration has been filmed and displayed in many places such as the Sun Yat Sen Memorial Hall.
Poh Teong Beo Temple
Poh Teong Beo (普忠庙) is a century old temple whose history can be traced back to the 1920s at Nankin Street. It is the first and only temple dedicated to San Zhong Wong, the three patriotic officials Wen Tian Xiang, Lu Xiu Fu and Zhang Shi Jie who lived during the Southern Song Dynasty.
What you will do?
Come join Singapore's traditional artisan Mr Andy Yeo as he brings you around the temple to show you how effigies and Door Gods are created. You will take away from this workshop:
Introduction to the various traditional techniques used in the restoration of religious effigies such as "Qi Xian Diao" (七线雕), "Jin Diao"(锦雕)and "Ni Diao"(泥雕)
Appreciate the nuance differences between effigies created through the different traditional techniques
Explore the process of how Door Gods are created
Paint your very own effigy in Chinese Mythology guided by Mr Andy Yeo.
Details of the Programme
30 April (Sat) 2pm-3.30pm
01 May (Sun) 2pm-3.30pm

Meeting place: Poh Tiong Beo (普忠庙) Gate at 201 Lor 6 Toa Payoh, Singapore 319385
Please arrive 15 minutes before the stated meeting time for registration and temperature taking.
Venue is wheel-chair accessible.
Parking is available
What to bring?
Wear a mask and comfortable clothes
Bring along hand sanitisers, disposable gloves, an umbrella and a bottle of water
Asthmatic individuals are encouraged to bring their inhaler.
COVID-19 Safety Precautions
All participants must wear a mask. All participants must be vaccinated.
All participants must complete the Safe Entry, health declaration and temperature taking before the event.
If you are tested ART positive, or having flu like symptoms, please stay home and rest.
Instructions for Participants
In lieu of the recent COVID19, participants will be required to take their temperatures and submit a health declaration form for contact tracing. Please do not attend the event should you feel unwell.
There will be no refund if you wish to cancel your tickets.
By agreeing to participate in the activity, participants will be responsible for any injury, loss or damage due to negligence of other actions on his/her part or that of children under his/her charge.
It is compulsory for a parent/guardian to accompany any child of or under the age of 12 children under his/her charge.
Meet My Craftsman Series:
Remember those flower garland makers, rangoli artists and effigies craftsmen? Despite rising competition, many intangible cultural heritage practitioners remain passionate about their craft. Meet My Craftsman brings Singaporeans to visit these craftsmen, understand the history and meaning behind their crafts and at the same time, have their hands at practicing them!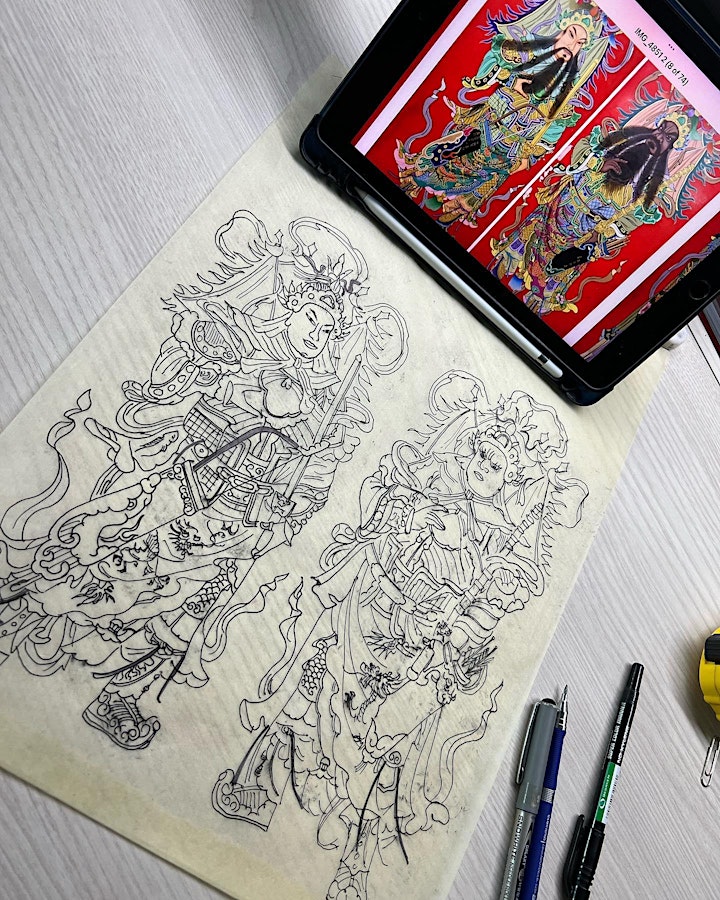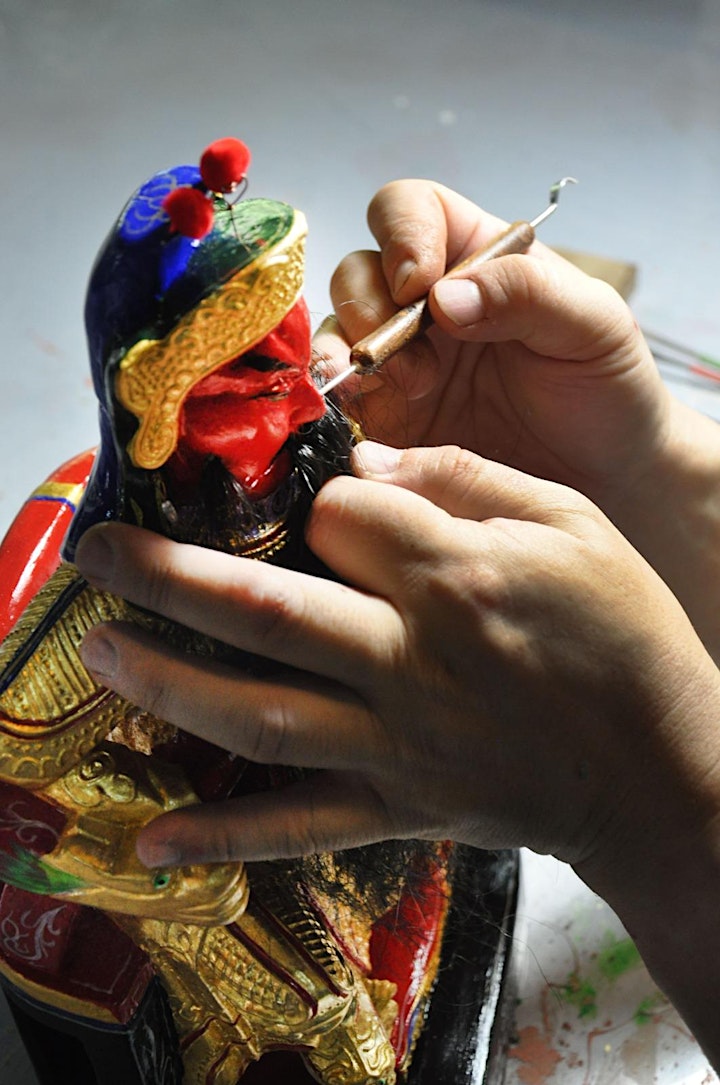 Location
Poh Tiong Beo Chinese Temple 普忠廟 <Gate>
201 Lorong 6 Toa Payoh
Singapore, 319385
Singapore
Refund policy