Event Information
Location
Anuisha Flower Shop (One Minute walk from Little India Station Exit B)
55 Kerbau Road
Singapore, 219179
Singapore
Remember Joseph Schooling's iconic Olympic gold-medal orchid garland? Find out how it is made from Anushia Flower Shop's Mr Selvam.
About this event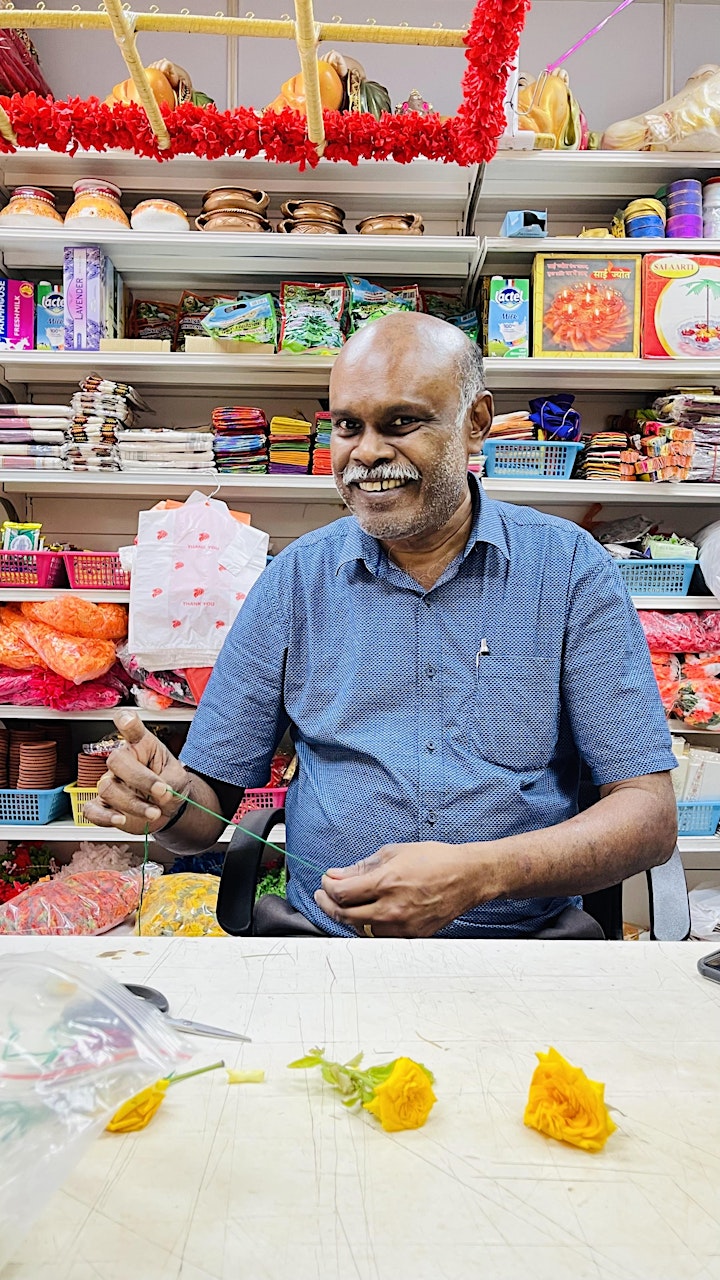 Learn the art of Garland making in this "Level One: Introduction to Flower Garland " workshop
Garland maker Jayaselvam is no stranger to big occasions – He has made garlands for luminaries including Olympic gold medallist Joseph Schooling, former Prime Ministers Lee Kuan Yew and Goh Chok Tong. Join him in an intimate workshop as he demonstrates the art of garland making.
Meet garland-maker, R Jayaselvam!
Hello everyone, you can call me Mr Selvam! Before I started making garlands in 1978, I was a machinist! Today, garland making is my passion and my rice bowl. For me, the most important aspect of this craft is passion. I always tell my students that it does not matter if the garland turns out ugly as long as you can proudly tell the gods that you have made them with your own hands and with heart.
Garland-making is also important to me as it is a way I connect with my family. Every Deepavali, I would enlist the help of my wife and two sons at the store. It is always a family affair and I am thankful for their support. I am excited to share my knowledge and stories accrued over the decades in this programme! See you then!
More about Anushia Flower Shop
Established in 1994, Anushia Flower Shop is named after Mr Selvam's wife. Flowers are a necessity in many Hindu rituals: as part of traditional clothing, tributes to gods, festive decorations, and even medicine. For instance, during weddings, the bride makes her entrance beneath a flower canopy called the phoolon ki chaadar. It is typically decorated with bright red flowers to symbolise purity, protection, and bravery.
Anushia Flower Shop is also a pioneer in its field where they are the first garland maker in Singapore to digitalise their business. Their website was launched in 2019 with the help of Mr Selvam's son and the move has greatly improved their business.
What you will do?
Ms Selvam will walk participants through a live demonstration of his craft and share his story as a Garland maker. Participants will will learn the basic knots of creating their own Flower Garland.
Details of the Programme
21 May (Sat) 2pm-3pm
28 May (Sat) 2pm-3pm

Meeting place: 55 Kerbau Road, Singapore (219179). One min. walk from Little India Station Exit B
Please arrive 15 minutes before the stated meeting time for registration and temperature taking.
Venue is not wheel-chair accessible.
Parking is unavailable at the premise.
Who should come?
Participants must be 7 years and above to participate.
Individuals who are allergic to pollen and flowers may not be suitable for the event.
All participants must be fully vaccinated.
What to bring?
Wear a mask and comfortable clothes
Bring along hand sanitisers, an umbrella and a bottle of water
Asthmatic individuals are encouraged to bring their inhaler.
COVID-19 Safety Precautions
All participants must wear a mask. All participants must be vaccinated.
If you are feeling unwell, or are tested ART positive, please stay home and rest
Instructions for Participants
There will be no refund if you wish to cancel your tickets.
By agreeing to participate in the activity, participants will be responsible for any injury, loss or damage due to negligence of other actions on his/her part or that of children under his/her charge.
It is compulsory for a parent/guardian to accompany any child of or under the age of 12 children under his/her charge.
Meet My Craftsman Series:
Remember those flower garland makers, rangoli artists and effigies craftsmen? Despite rising competition, many intangible cultural heritage practitioners remain passionate about their craft. Meet My Craftsman brings Singaporeans to visit these craftsmen, understand the history and meaning behind their crafts and at the same time, have their hands at practicing them!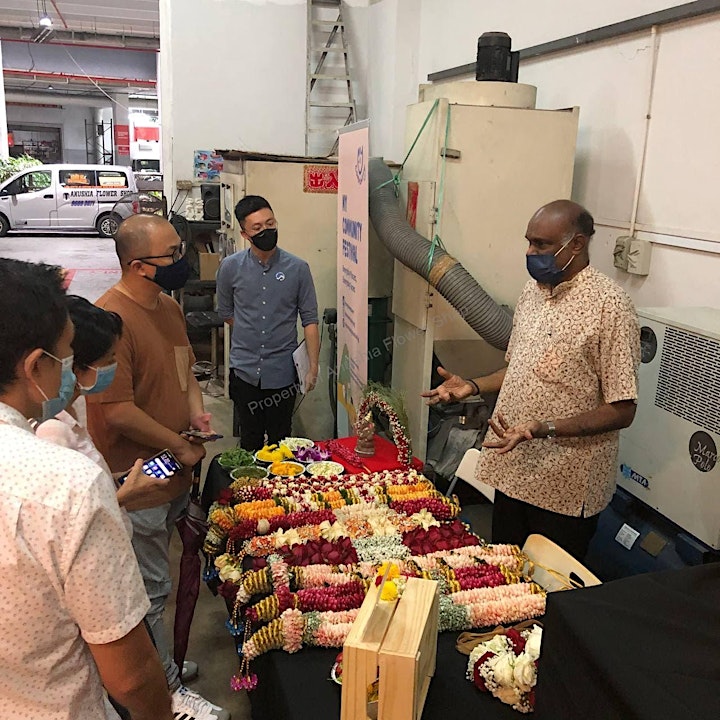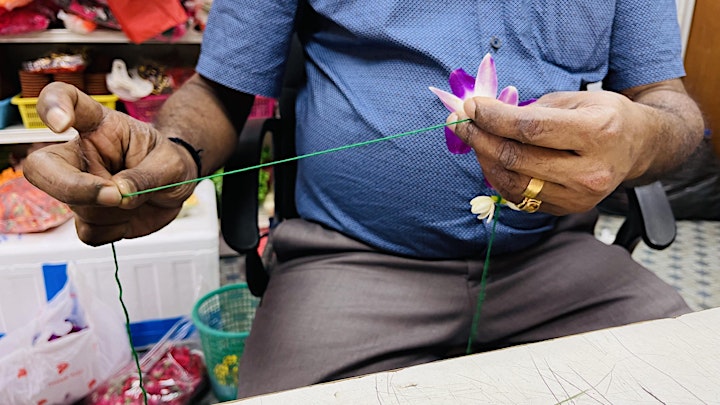 Location
Anuisha Flower Shop (One Minute walk from Little India Station Exit B)
55 Kerbau Road
Singapore, 219179
Singapore
Refund policy