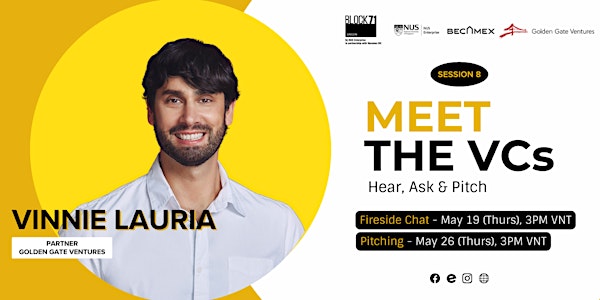 Meet the VCs feat. Golden Gates Ventures
A chance to meet with top-tier VCs from the BLOCK71 Global Community!
About this event
MAY 26: PITCH TO GOLDEN GATE VENTURES & BLOCK71 SAIGON
Apply by May 22 to pitch to Golden Gate Ventures! BLOCK71 Saigon is hosting a close door session on May 26 with Mr. Vinnie Lauria from Golden Gate Ventures to evaluate a shortlist of Vietnamese startups on the hunt for funds, mentorship and business support! Apply in the registration form as Startup Founder and we'll reach out to successful applicants arrange for a meeting.
If we think you're really great - we may also invite up to 3 founders to pitching session. But first, tune in to the live Fireside Chat on May 19 to get to know more about Vinnie and Golden Gate Ventures's investment philosophy better!
MAY 19: MEET GOLDEN GATE VENTURES - A FIRESIDE CHAT
In our 8th session of Meet the VC in Vietnam, we catch up with Vinnie Lauria - Partner at Golden Gate Ventures . Vinnie is an entrepreneur turned venture capitalist. He is a founding partner of Golden Gate Ventures, an early-stage VC firm in Southeast Asia with US$250M AUM and 60+ investments to date. He is a Kauffman Fellow, and a guest lecturer at the National University of Singapore. He was rated by the Founder Institute as highest startup mentor in Asia from a pool of 2,500 mentors.
Prior to setting up Golden Gate Ventures, Vinnie built two startups in Silicon Valley: Meetro, a location-based chat service which was dissolved with many lessons learned in 2007; and Lefora, a forum hosting platform which grew to over 100,000 communities and was acquired by CrowdGather in 2010. He founded the Silicon Valley NewTech meetup, featuring hundreds of startups to a monthly audience w/ more than 10,000 members.
Earlier in his career, Vinnie spent four years within IBM, helping to shape how IBM was approaching social software for the enterprise. Vinnie is a graduate of Boston University's College of Engineering. Vinnie is passionate about building startup ecosystems and joined his first startup while still in high school.
About Golden Gate Ventures:
Golden Gate Ventures is an early-stage Venture Capital fund in Southeast Asia (SEA) founded by Silicon Valley natives with offices in Singapore, Indonesia, and soon Vietnam. Since 2011, Golden Gate Ventures has launched four funds, managed US$250M AUM, and invested in 60+ companies. The firm focuses on investing in the rising consumer internet class in Southeast Asia.
Golden Gate Venture's mission statement is to "Empower the Audacious" through human and financial capital.They believe in empowering founders who are risk-takers, who dare to challenge the norms, and leverage technology to change the way the world works.
They are looking to expand their portfolio within Vietnam and are actively looking for Vietnamese startups to invest in! So what are you waiting for? Sign up now!
Learn more: https://www.goldengate.vc/
---------------
About BLOCK71 Saigon
Tech Ecosystem Builder and Global Connector
BLOCK71 in Saigon is a partnership between NUS Enterprise, the entrepreneurship arm of the National University of Singapore, a leading university in Asia and Vietnam's leading Developer, Becamex IDC.
Together, we serve as the epicentre for early stage tech innovators in Vietnam.
Learn more at saigon.block71.co