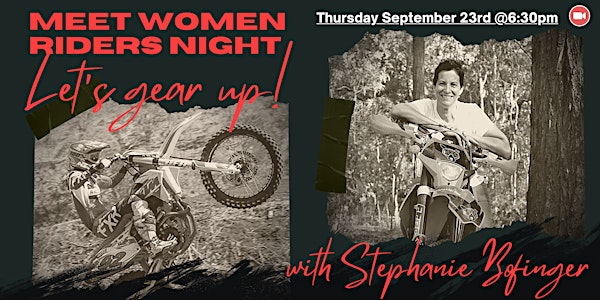 Meet Women Riders Night: Let's Gear Up!
Meet the Founder of MissMxG and Fempro Armour, and learn top tips to find safe motorcycling gear
About this event
Stephanie Bofinger, an ex-professional German swimmer and avid motorcyclist, established Fempro Armour and MissMxG in October 2019, after crossing the Simpson Desert with her motorcycle to raise funds for Dolly's Dream, a charity that stands against bullying.
During this ride, Stephanie noticed the trouble other ladies had with their protection gear and apparel, or their lack of. Once back home, Stephanie started her research into protection gear, female participation, issues females experienced, to see if there was a valid demand for female protection. She engaged with over 5000 female motorcyclists through 3 online surveys to find out what was needed.
One year later, Stephanie launched the first and only viscoelastic foam with memory effect female chest protection armour (SDL – 1 and 2), fitted sports singlet (suitable for all sports and work) and other apparel through her MX company MissMxG and Fempro Armour. They are also the first female breast and chest protection armour company that radically changes the way women look at body protection.
Join us for an interactive event where Stephanie will share her motorcycling/business journey and what she discovered along the way, the process of creating/manufacturing gear, myths about armour and 5 tips on what to look for in gear!
Any donation made through this event will be used to sponsor a woman's motorcycling class in Malaysia.
Schedule
6:30- 6:45pm: Welcome and Poll on Gear
6:45-7:15pm: Gear and armour presentation by Stephanie
7:15-7:25pm: Q&A
7:25-7:35pm: Fun interactive quiz
7:35-7:50pm: Break out rooms- Let's get to know each other
7:50-8pm: Wrap up