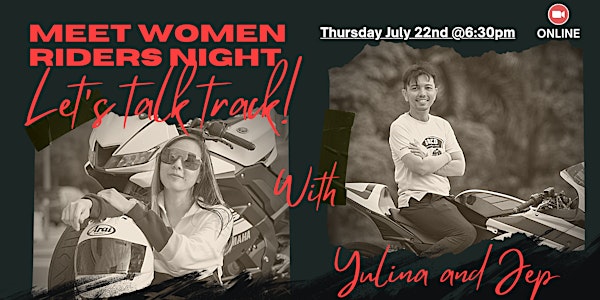 Meet Women Riders Night: Let's talk track
Our track day might be postponed for now, but nothing prevents us from talking about it and getting ready!
Refund Policy
Contact the organizer to request a refund.
About this event
Join us for this interactive session with two special guest speakers from Malaysia. They will share their experience and top tips to get started on the track and sharpen your riding skills. You will have the opportunity to ask all the questions you want to our speakers and hosts, meet fellow women riders across the region, and have some fun with online games ;-)
About our guest speakers:
Yulina is a Malaysian track racer. She joined a racing team in 2018 and decided to challenge the status quo in the boys' club. But to her, racing is genderless. On her motorcycle, she feels limitless as a human. While she studied mass communications at Monash University, she has always endeavored to connect her professional skills to her passion for 2 wheels, for example as an emcee and speaker for TEDTalk x INTI's Young, Wild and Free themed event covering the topic of Breaking Barriers and Stereotypes through Motorcycling. In racing like anywhere else, she hates having people tell her how to lead her life. She believes motorsport is for everyone and she hopes to see more women just do what they love. She will share with us some gear tips and how to get started on the track.
Jep is the co-founder of the School of Knee Down Malaysia. Engineer by profession, he is a coach by passion since 2014, and has trained thousands of people from all over the world. He started riding as a teenager, trying to break speed limits in his native Borneo, and then started racing at club level after moving to the capital Kuala Lumpur. He also loves breaking stereotypes: he might look young and short, but his coaching skills and experience are well above average (and he's actually 44 years old). He's living proof that even petite figures can put their knee down. He's a firm believer that anyone can ride and hopes to make track riding more accessible. He's particularly enthusiastic about partnering with FreeW for our 1st upcoming Women Track Day. He will share his top 10 track riding tips for newbies and lead an interactive Q&A session.
Schedule
6:30-6:40pm: Welcome and Poll
6:40-7pm: Yulina- how to get started
7-7:20pm: Jep- top 10 track riding for newbies
7:20-7:30pm: Q&A
7:30-7:40pm: Interactive Quiz
7:40-7:55pm: Breakout rooms
7:55-8pm: Wrap up and next event
Through this event, you can support women to gain their independence and open their options in life. All donations go to FreeW riding school in Malaysia.
A donation of 145 RM (35 USD) finances 1h of personalized class for 1 woman.