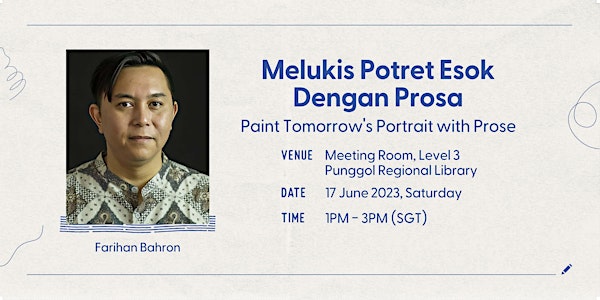 Melukis Potret Esok Dengan Prosa
Pelajari cara mencipta kisah spekulatif tentang Punggol dalam 2 jam.
By GoLibrary | National Library Board, Singapore
Date and time
Saturday, June 17 · 1 - 3pm +08
Location
Punggol Regional Library - Meeting Room (Level 3) 1 Punggol Drive #01-12 One Punggol Singapore, 828629 Singapore
About this event
This programme is conducted in Malay, suitable or youths and adults.
Sinopsis
Kembangkan imaginasi anda dan cipta cerita futuristik tentang Punggol dalam bengkel 2 jam ini! Pelajari elemen utama dalam fiksyen spekulatif, pembangunan dunia dan perkembangan watak untuk melukis potret esok dengan prosa.
Tentang Fasilitator
Farihan Bahron, penerima Anugerah Harapan 2017, pernah memenangi beberapa sayembara penulisan kreatif termasuk Peraduan Asah Bakat 1998 (Hadiah Pertama - Puisi), Anugerah Pena Bakti 2000 (Hadiah Ketiga - Puisi), Anugerah Pena Emas 2003 (Hadiah Kedua - Puisi), Anugerah Pena Emas 2015 (Hadiah Pertama - Puisi dan Cerpen), Mencari Kristal 2016 (Hadiah Ketiga - Cerpen), dan Sayembara Puisi Kata-Pilar 2020 (Hadiah Utama). Kumpulan sajaknya yang pertama, Tukang Tunjuk Telunjuk, memenangi Hadiah Sastera Singapura 2018 dan Anugerah Persuratan 2021 bagi kategori puisi Melayu. Kumpulan cerpennya, Kepala Kotak, memenangi Hadiah Sastera Singapura 2022 bagi kategori fiksyen Melayu. Dia kini sedang menyiapkan dua buah novel belia.
Instagram: @farihan_bahron
About the series
The Writers Series celebrates Singapore stories showcasing some of the most remarkable voices in Singapore literature. With a focus on diversity and inclusivity, this series promises something for every reader. This is a joint initiative by Singapore Book Council and the National Reading Movement.
About the organizer
The National Library Board (NLB) manages a network of 28 libraries, the National Library and the National Archives of Singapore. NLB promotes reading, learning and information literacy by providing a trusted, accessible and globally-connected library and information service through the National Library and a comprehensive network of libraries.