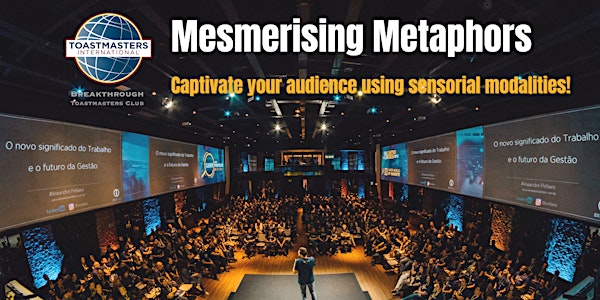 Mesmerizing Metaphors @ BTMC Chapter Meeting
If a picture paints a thousand words, then we should utilize the range of colours from our language palette to deliver picturesque speeches!
When and where
Location
imPAct@Hong Lim Green 20 Upper Pickering Street Level 2 - Bee Hive Singapore, 058284 Singapore
About this event
At Breakthrough Toastmasters Club, our mission is to provide a mutually supportive and positive learning environment in which every individual member has the opportunity to develop oral communication and leadership skills through the 3Es:
Exercise - Get into a regime to hone the skills and confidence you need to effectively express yourself in any situation.
Education - Gain the valuable practice needed to develop your public speaking, communication, and leadership skills.
Evaluation - Grow and improve your public speaking and communication skills through honest and supportive peer evaluation.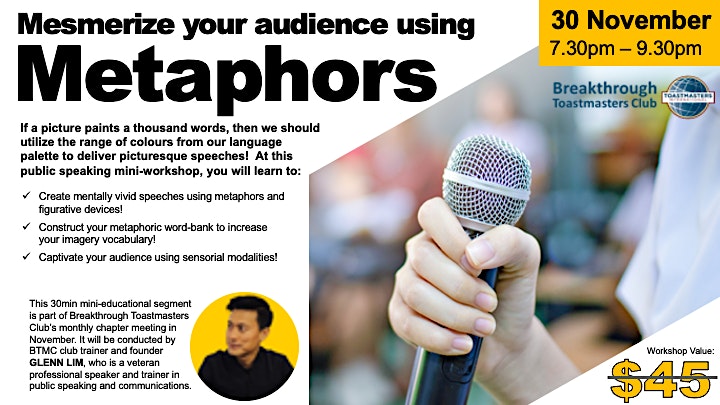 What's in it for me?
Toastmasters will give you the skills and confidence you need to effectively express yourself in any situation.
- Listen and learn from speakers attempting their speech projects
- Pick up evaluation skills from speech evaluators
- Have fun participating in the impromptu Table-Topics!
- Achieve new speaking goals and present new topics to new audiences
- Connect with a vibrant learning community of like-minded learners
Who are we?
Toastmasters International is a non-profit educational organization that teaches public speaking and leadership skills through a worldwide network of clubs.
Whether you are a mature manager, student, young professional, career advancer or looking to make an impact in your community, Toastmasters is the most efficient, supportive, enjoyable and affordable way of gaining great communication skills. You'll improve your interpersonal communication and be more persuasive and confident when giving speeches.
Just like learning to swim, public speaking is a skill that cannot just be learned in a workshop alone. In order to see lasting results, one needs to commit to continual practice, in a nurturing community. That's where a club like BTMC - Breakthrough Toastmasters Club steps in!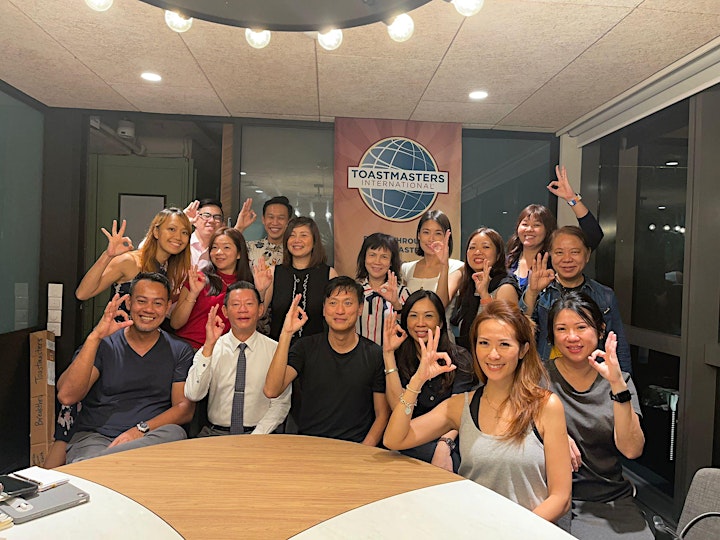 Regardless of where your speaking skills are on the spectrum, the best time to take the next step is RIGHT NOW!
REGISTER TODAY!