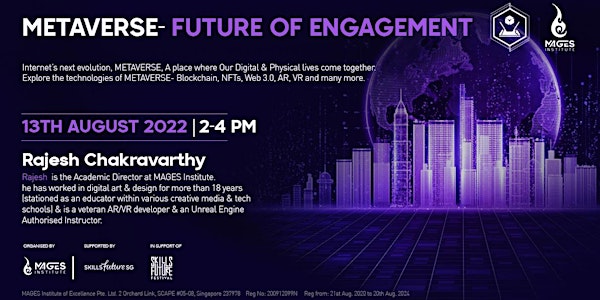 METAVERSE- Future of Engagement
Internet's next evolution- METAVERSE. What are you waiting for? Join to explore technologies- Blockchain, NFTs Web 3.0, AR/VR & many more...
About this event
Why enroll for the Webinar??
"Reality has always been too small for the human imagination. We're always trying to transcend."—Brenda Laurel
With MAGES, understand and explore the full potential, opportunities, challenges, and business value of Metaverse.
Are you a tech enthusiast, do you need to stand out?
If the answer is yes and you aspire to make a mark in this new and coveted field, then being familiar with its various concepts is key. Check out how companies are leveraging the technology to support and accelerate their businesses
The metaverse is the next evolution of the Internet and it will increasingly impact how people interact with the physical and virtual worlds. BigTech, creative games and interactive entertainment businesses, infrastructure providers, consumer markets businesses, and a whole range of other potential stakeholders are now considering what the Metaverse will mean for them. Will it be a virtual place where our digital and physical lives come together?
Broadly speaking, the emerging technologies that make up the metaverse can include virtual reality as well as an augmented reality which combines aspects of digital and physical worlds. It's a virtual world that can also be accessed through computers, game consoles, and even phones.
That translates into a digital economy, where users can create, buy, and sell virtual or physical goods. Learners will gain insights into these technologies and how these organizations are coping with the resulting disruption.
METAVERSE- Opportunities and Challenges
This webinar is to establish and cultivate a broad and comprehensive understanding of this rapidly evolving and commercially viable field of the Metaverse. Throughout the session, the learner will gain an overview of the history, trends, and limitations in the current metaverse ecosystem.
Topics Covered
1. Definition of Metaverse
2. Characteristics of the Metaverse
3. The differences between web 2.0 and web 3.0, are centralized and decentralized, Metaverse and Multiverse.
4. Definitions of blockchain, NFTs, and cryptocurrencies
5. Companies leading the way for the Metaverse
6. Platforms in which Metaverses are created and case studies
7. Benefits & disadvantages of the Metaverse
WHO SHOULD SIGN UP?
Tech enthusiasts
Technologists
Passion for Programming
Intend to seek a career in Emerging Technologies
Sign up now and start your journey to be part of future technologies...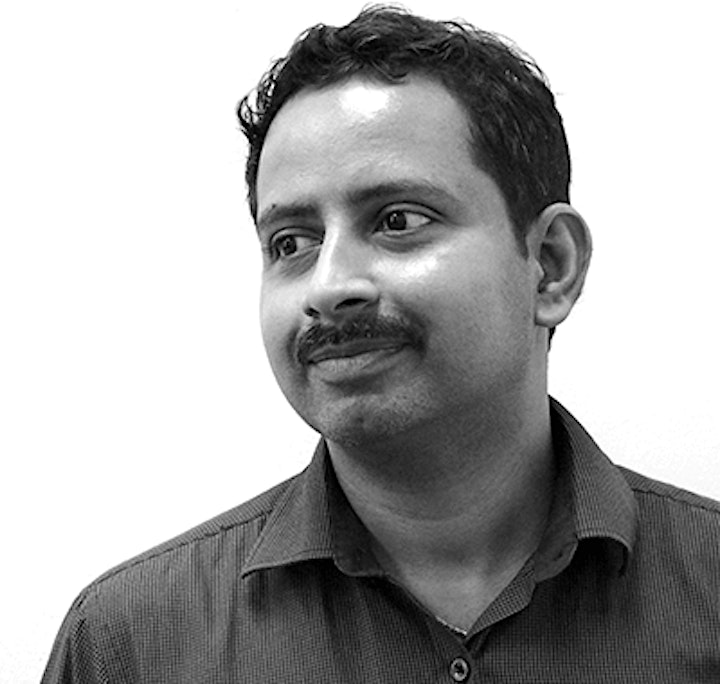 About the Speaker
RAJESH CHAKRAVARTHY
Academic Director | MAGES Institute
Rajesh has worked in digital art & design for more than 18 years (stationed as an educator within various creative media & tech schools) & is a veteran AR/VR developer & an Unreal Engine Authorized Instructor.
Sign up now and get a chance to interact with the brain behind multiple fully-realized game worlds!