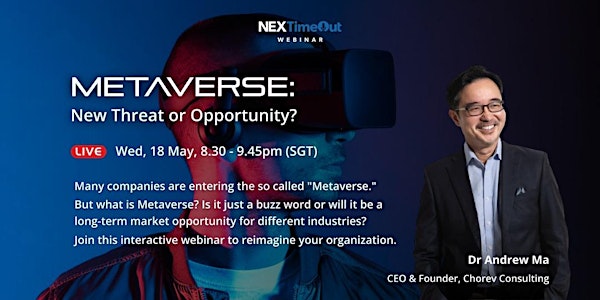 Metaverse: New Threat or Opportunity?
Join Dr. Andrew Ma as he reimagines how organizations will evolve with Metaverse.
Date and time
Wed, 18 May 2022 05:30 - 06:45 PDT
About this event
METAVERSE: NEW THREAT OR OPPORTUNITY?
In this fast changing times, many companies are attempting to understand the impact of Metaverse. But what is Metaverse? Is it just a buzz word or will it be exactly what we need?
SPEAKER: DR ANDREW MA
Dr Andrew Ma is the founder and co-owner of Chorev with a strong desire to reconnect people in this age of technology. Coming from a high-tech background, he has extensive global management experience in diverse disciplines, including marketing, business development, strategic & product management, system engineering, and consultancy & training.
In addition to his solid practical leadership experience, he is also recognized for outstanding academic achievements, including a Ph.D. in Global Leadership, with a research focused on cross-cultural & cross generational leadership, EMBA; M.Sc. (Optical Communication); B.Sc. (Electrical Engineering); and BA (Economics).
Furthermore, he is a frequent speaker at various chambers of commerce, community, and TEDx events and has recently authored a book on enhancing work performance through neuroscience. Andrew is a certified trainer for The Potential Project CBMT (Corporate Based Mindfulness Training), EQi2.0/360, Miller Heiman SS/CS, MBTI Step I/II, and Master trainer for MRG LEA360.