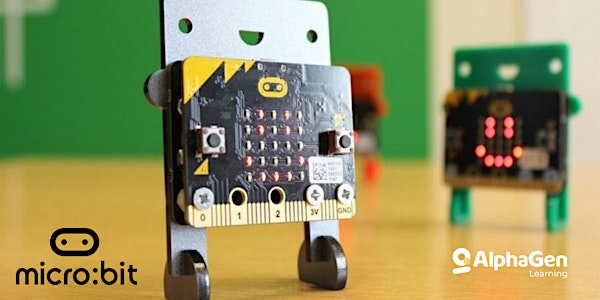 Micro:bit Ages 10 - 12
Become a digital creator. Best suited for: The avid tinkerer will derive hours of enjoyment with Micro:bit and its limitless possibilities.
About this event
Micro:bit
$270/camp
5 days • 90 minutes per day
BBC's Micro:bit is a tiny but powerful pocket-sized computer that gives your child a bird's eye view of how hardware and software interact, and a fantastic tool to introduce learners to Robotics. MakeCode - a platform by Microsoft - is an offi cial platform to program your Micro:bit and designed to evoke a sense of wonder, curiosity and excitement in your child as they visualise and execute projects with immediate results.

Micro:bit
Watch as your child's coding efforts literally come to life to control the behaviour of the Micro:bit. Your child will learn how to use the various sensors contained in the Micro:bit, namely, accelerometer, light, touch and temperature to create super cool projects that introduce them to the world of robotics.
Core Learning
A bridge between programming and real-life hardware helps build powerful logic in real time
Hours of fun and tinkering which leads to learning through trial and error. Projects include a
Rock, Paper Scissors game, step counter and temperature logger.
Kids can continue using their Micro:bit set for endless possibilities of cool projects and possible extensions.
Prerequisites: This camp is suitable for all students

System Requirements
A laptop with connected keyboard and mouse, webcam, and a good Wi-Fi connection. A BBC Micro:bit kit that we will mail to you, please allow 3 days for shipping. (Cost included in camp fees)