Description
#lifelonglearning
Have you always wanted to learn a new skill but have not enough time? Do you realise that your smartphone is the first and last thing you touch everyday? So we have something just right for you!
As part of the SkillsFuture Festival, Want Things Done is excited to introduce our new micro-learning programme – MicroGenius. It uses a mobile-first micro learning approach that lets you learn at your own pace in bite-size anytime of the day in just 10 minutes. If you have great ideas and wish to become a content creator, MicroGenius is great for you too. You can expand your reach by engaging more learners from our micro-learning platform.
The SkillsFuture Festival is a month-long festival organised by SkillsFuture Singapore (SSG) from 30 June to 4 August 2018. It aims to inspire Singaporeans to develop a passion for learning and pursue skills mastery. In support of the festival, our lessons curated by content creators invited by Want Things Done are FREE for a limited period.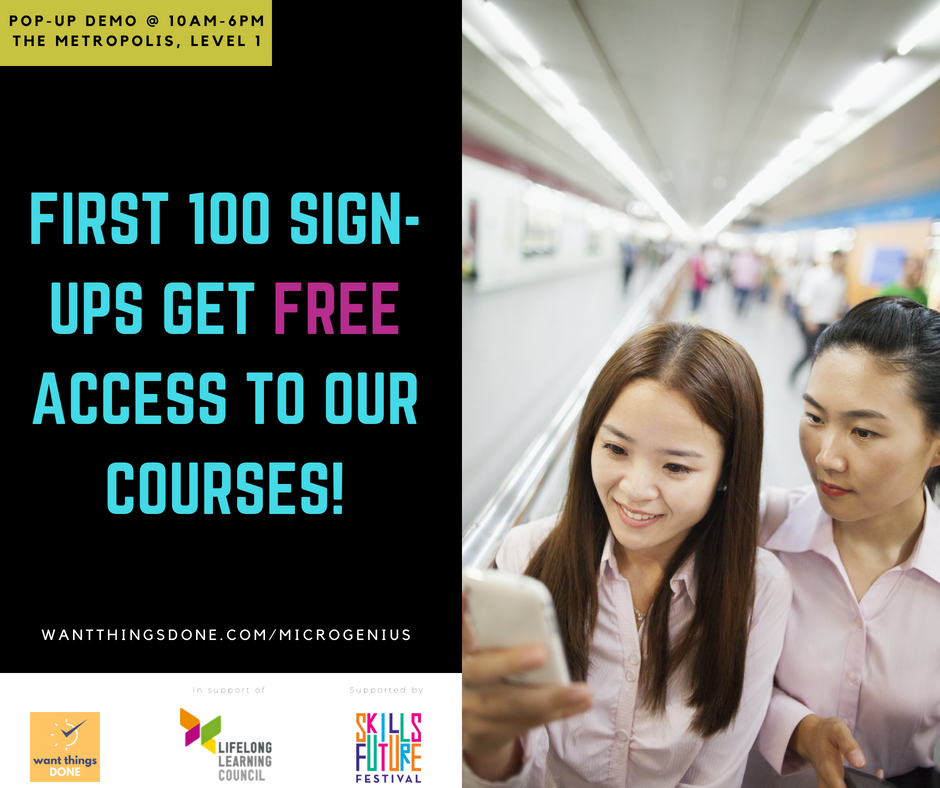 Sign up at http://wantthingsdone.com/microgenius to get a free link to the lessons. For a demonstration of how MicroGenius works, come down to the Metropolis for our *POP-UP event on 31st July from 10am to 6pm. Also be there to meet and hear from some of our content creators in person from 11am to 1pm! We welcome prospective content creators to get in touch with us before or during the POP-UP too.
This is a collaboration with Gnowbe's micro-learning platform to provide learning lessons on a wide variety of topics from entrepreneurship to digital marketing to mental health to lifestyle crafts and soft skills. Not only is bite-sized learning suited for busy adults and teens, it is an effective way of learning coupled with multi-media content and interactive response. Engagement comes in the form of possibility of uploading your responses in multi-media formats and the option to share your learnings with peers in the same "class"; thereby empowering peer learning as well.
*You do not need to be stay for the entire duration of the POP-UP event. Once you have signed up, you can access the micro-learning lessons any time at your own convenience.