Mindfulness-Based Wellbeing Enhancement (MBWE) Jul
About this event
Mindfulness-Based Wellbeing Enhancement (MBWE) is a hybrid of Mindfulness Based-Stress Reduction (MBSR) and Mindfulness Based-Cognitive Therapy (MBCT), integrated with the intentions of Positive Psychology. This eight week MBWE course has helped people to improve wellbeing, reduce stress and anxiety, and deal with other life challenges. Participants also found themselves to be happier and feel less judgmental and critical of themselves and consequently to others.
The course teaches authentic and secular Mindfulness practices, Mindful movements and Positive Psychology. In keeping with the first generation of Mindfulness programs it includes the core mindfulness and allied practices, meditation practices, silent practices, light stretching/movements, group dialogues, discussions and home experiments. The workshop consists of eight 2.5 hour sessions and a half-day mindfulness retreat that would help weave mindfulness into your lifestyle.
*Upon successful completion of this course, participants would satisfy one of the pre-requisites for enrolling into the IMTA Accredited Teacher Training Program.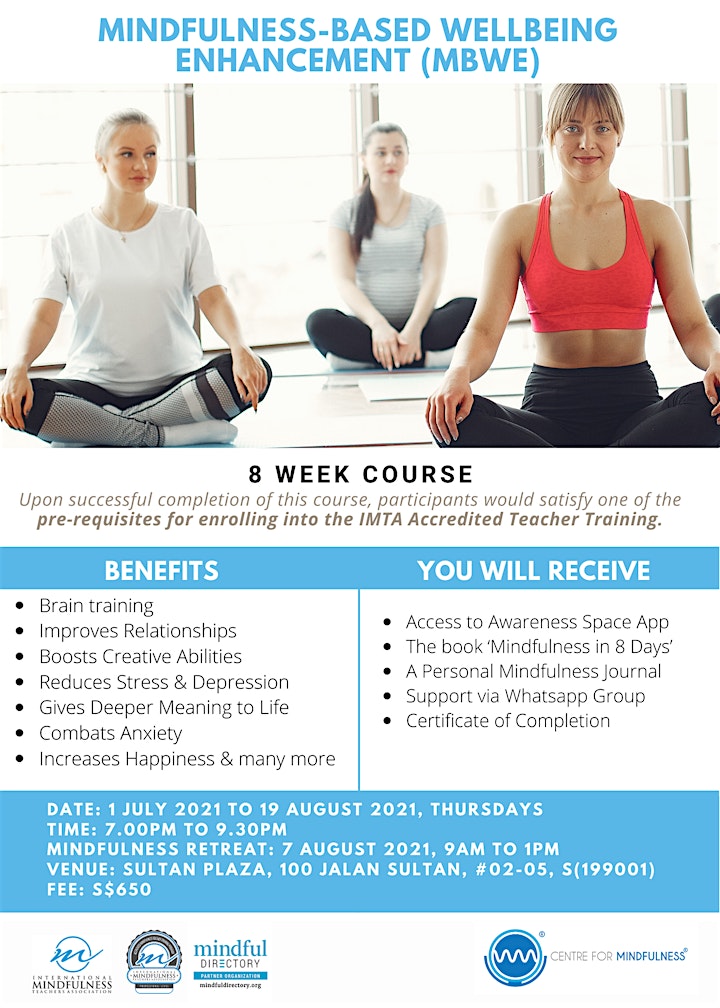 Organiser of Mindfulness-Based Wellbeing Enhancement (MBWE) Jul
We teach Mindfulness as a secular and evidence based practice to Organisations, Schools and Individuals through professional training and education.
We empower individuals to BE and enhance their wellbeing, quality of life and performance.
 Singapore's Centre for Mindfulness is a one stop centre for Mindfulness Training, Education and Practice. We established ourselves in Singapore in 2015 and we are a member of The CPD Standards Office (United Kingdom) who award independent CPD accreditation to training and learning activities across all professions and sectors.