Mindfulness Teacher Training Certification Program (Accredited) - March 201...
Description
Centre for Mindfulness
Centre for Mindfulness (CFM) is a member of the CPD Standards Office and an accredited CPD provider. This certification programme is accredited by The CPD Standards Office (United Kingdom).
Why People Choose To Attend Our Mindfulness Teacher Training?
accredited programme by the The CPD Standards Office (United Kingdom)

learn to teach research and evidence-based Secular Mindfulness

an intensive and comprehensive 270 hour programme

the programme is designed based on the mindfulness teacher competencies of the Universities of Bangor, Exeter and Oxford.

develop facilitation skills unique to Mindfulness for leading groups and individuals

learn to integrate mindfulness into other professional disciplines

taught by a team of expert Mindfulness Practitioners and Psychologists

trainees who fail in their tests for any module would be coached until they complete the course at no additional charges.
---
SIGN UP by 15 Feb 2019 to receive a FREE Meditation Cushion. CLOSING DATE: 20 Feb 2019.
---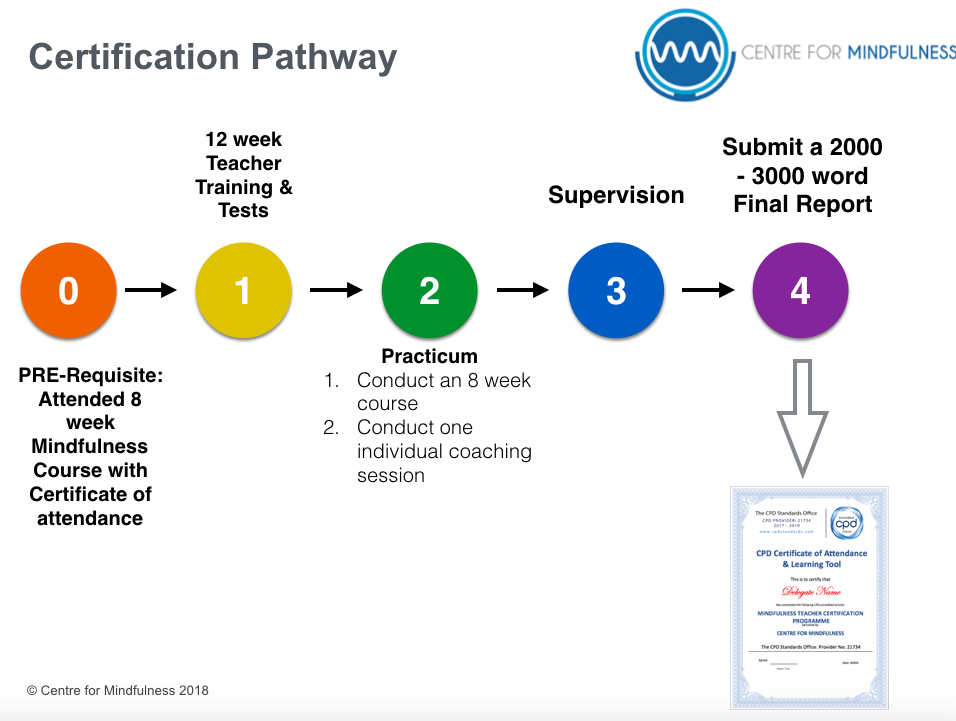 1) Pathway
Stage 0: PRE-requisite: You must have already completed an 8 week mindfulness course (such as MBWE, MBSR, MBCT etc) before applying for this programme.
Stage 1: Complete all 5 modules over the 12 weeks.
Module 1: Theoretical Foundation of Mindfulness
Module 2: Programme Design and Development
Module 3: Teaching a 8 Week Mindfulness Course
Module 4: Facilitating Mindfulness Practices
Module 5: Teaching and Working with Groups
- Trainees would need to have at least 80% attendance for all modules and pass all tests with a 80% pass rate.
- All Reading Materials must also be completed during the 12 weeks.
Stage 2: Complete Practicum
- Conduct a 8 week program on Mindfulness-Based Wellbeing Enhancement (MBWE) for ONE GROUP of 4-10 people.
- Conduct ONE INDIVIDUAL Coaching Session for 8 sessions.
Stage 3: Complete Supervision
Stage 4: Submit a final written reflection paper consisting of 2000-3000 words.
All assessments, practicum and supervision must be completed within 12 months from the start of the course date.
---
2) Learning Outcome
Successful trainees will be able to:
1. Demonstrate competence in teaching mindfulness based courses and workshops
2. Articulate the professional and ethical standards of adherence for a mindfulness teacher
3. Articulate and demonstrate relevant teaching skills including clear instructions, a positive group learning environment, safety, managing challenges and difficulties of self and participants and being flexible in curriculum delivery.
4. Demonstrate good relational skills when teaching and with fellow teachers.
5. Demonstrate the ability to develop customised curriculum by selection, organising and evaluating teaching materials for individual and group settings.
6. Demonstrate a balance of theoretical knowledge, experiential learning, relevant qualities of a teacher and the right attitude of mindfulness for teaching
7. Demonstrate responsive and flexible pacing to cover an appropriate curriculum, as well as holding a group learning environment and managing challenges and difficulties.
---
3) Course Duration
a) Online Live Teaching (24hrs): Modules 1 to 3 will be taught online through virtual classrooms.
b) Face to Face Onsite Teaching (24 hrs): Modules 4 and 5 will be taught face to face (onsite).
c) Ongoing Assessments, Reading, Group sessions reflections, reflections on practicum, and supervision.
d) Total Hours inclusive of practicum and tests ( a to c): 270 hours
Dates for the 12 week programme in Stage 1:
i) Mondays (12 sessions of live zoom training): 11/3, 18/3, 25/3, 1/4, 8/4, 15/4, 22/4, 29/4, 6/5, 13/5, 27/5, 3/6. Time: 7.30pm to 9.30pm (Singapore Time)
ii) Saturday (8 sessions of onsite training): 16/3, 23/3, 30/3, 6/4, 13/4, 20/4, 27/4, 4/5. Time: 9am to 12pm (Singapore Time)
ii) Supervision: To be mutually agreed upon between supervisor and trainee.
---
4) Complaints Policy: Centre for Mindfulness (CFM) is committed to providing efficient channels for trainee teachers to seek resolution for concerns. Complaints process will be explained during the first session of class.
---
5) Course Materials

All textbooks and materials for reading are included in the course fees.
6) Withdrawal Policy:
If any of the students wish to withdraw from the Teacher's Training Program Course for any reason other than when that the Centre for Mindfulness (CFM) is unable to fulfil its obligations, the student has to submit a written notice of withdrawal to CFM via email - admin@centreformindfulness.sg. Verbal requests will not be entertained. CFM will respond within fourteen (14) working days after receiving such notice. The possible refund to the student will be as follows:

Percentage of Refund of course fees:
If trainee's withdrawal notice is received by,
At least 60 days before the commencement of the course: 100%
Between 59 to 45 days before the commencement of the course: 80%
Between 44 to 30 days before the commencement of the course: 60%
Between 29 to 20 days before the commencement of the course: 40%
Less than 19 days notice before the commencement of the course: 0%
---
7) Data Protecion: Centre for Mindfulness adheres to the Personal Data Protection Act as set forth by the Personal Data Protection Commission Singapore. All personal information, including assessments submissions, are stored electronically using password protection which is available only to the lead and co facilitators.