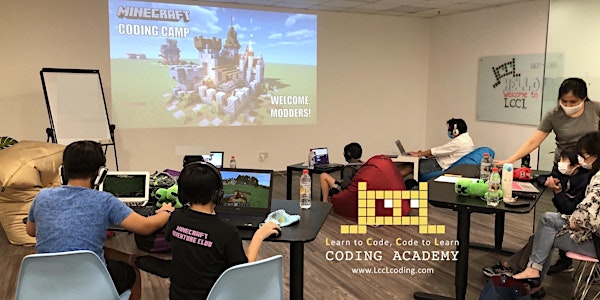 Minecraft Coding for Kids
Code Minecraft mods and deploy to your own server. For kids 9 - 11 who love Minecraft and have basic coding experience. Free plush toy*.
When and where
Location
LccL Coding Academy 19 Tanglin Road #04-20/21 Tanglin Shopping Centre Singapore, 247909 Singapore
About this event
Event details
For 9 - 11 year-olds
3-day camp on Monday - Wednesday, 9:30am - 12:30pm
Held in-person at the academy with safe management measures
Child to bring own laptop with Minecraft Java Edition installed
Free plush toy for early birds (while stocks last)
Pre-requisites
IMPORTANT: Child must already have a gaming account on Minecraft (desktop Java Edition), with Multiplayer mode enabled. Please ensure that this pre-requisite is fulfilled before registering to the camp.
Child must have prior basic coding experience.
Intakes
Pick an intake (all Mon - Wed, 09:30am - 12:30pm):
Nov - Dec 2022
Sibling discount
10% off for second sibling
15% off for third and subsequent siblings
To enjoy sibling discount, opt for Invoice payment (PayNow)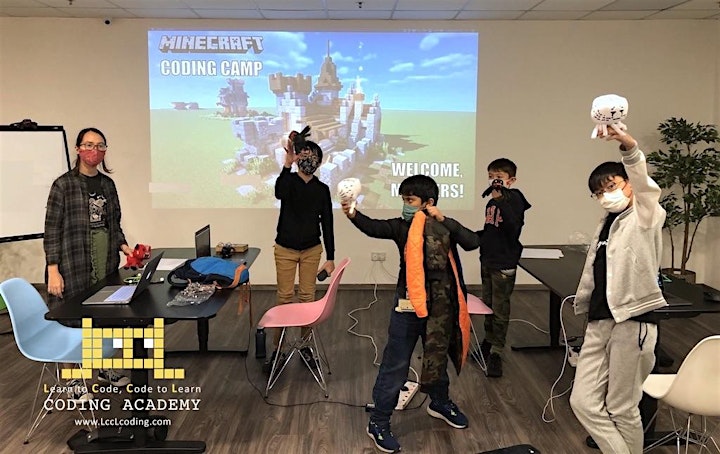 Image: Taking a break, posing with plushies - spot the Mushroom Cow, Ghast and Spider.
Image: Coders given the task of coding and testing their mod during camp.
What do students learn at this camp?
For current Minecraft gamers this will be super fun and highly educational camp as they discover how to change game functionality with code!
Understand how games are developed
Gain insight to the architecture of a server hosted game like Minecraft.
Learn what goes on in the development process of a game.
Code Minecraft mods
Learn to code mods with both visual block coding and some Java ( a "mod" is a modification to the game).
Create mods to change gameplay, mob behaviours and cause strange / funny / interesting / unexpected occurrences. Think exploding arrows, jumping 10 storeys high, spawning multi-coloured mobs, creating a custom PVP arena, parkour parks, custom commands and many more.
Learn simple server admin.
Deploy mods to the server. Enjoy modded game with friends.
Free Minecraft plush toy
Get a free plush toy when you register (while stocks last). Plush toy will be randomly assigned.
Image: Creepers waiting to be with new owners (while stocks last).
FAQs
How do I know if my child has sufficient coding experience (the pre-requisite of this camp)?
Your child will need basic coding knowledge to be able to fully appreciate the content of this camp. It is recommended that your child has undergone coding education no more than 6 months in the past to register to this camp.
If your child has no prior (or minimal) experience, you may register to the 1-week Coding Fundamentals Intensive, prior to taking this Minecraft Coding camp. Due to the nature of its curriculum, this Minecraft camp is NOT suitable for complete coding newbies.
Is the camp online or in-person?
This is an in-person camp, help at LccL Coding Academy's flagship Tanglin campus. Check us out at LccLcoding.com or visit us virtually.
How do I contact LccL?
WhatsApp or call 6817 2957. Click here to WhatsApp instantly.