Minimise Taxes By Taking Advantage of your SRS Account

Thursday, 5 September 2013 from 18:30 to 21:00 (Singapore Standard Time Singapore Time)
Event Details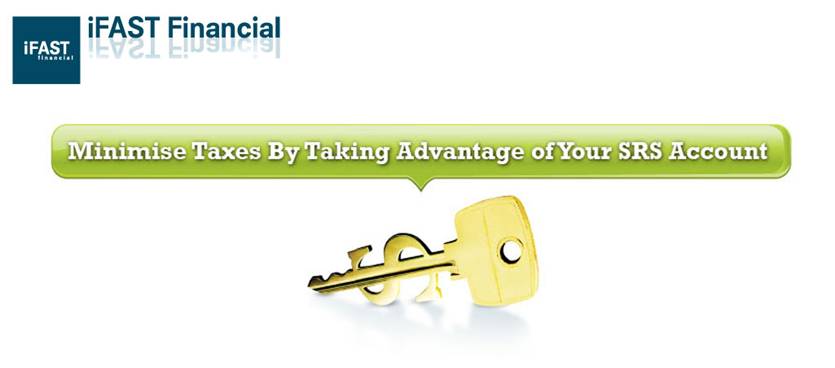 The SRS, or Supplementary Retirement Scheme, was launched in 2001 as a voluntary scheme to encourage individuals to save for their retirement. It complements savings in the various Central Provident Fund (CPF) accounts as these funds are all meant to provide for housing and medical needs upon one's retirement. However, while CPF contributions are compulsory for all employees, participation in SRS is strictly voluntary. SRS members may contribute as and when, at varying amounts (subject to a cap), at their own discretion. As an incentive to individuals who are willing to set aside more funds for future retirement use, the SRS is designed such that contributions will reduce one's income tax payable.
6.30pm: Registration and Dinner 7.30pm: Southeast Asia – Choice Investments are now closer to Home

8.00pm: Time to Take Stock of the U.S. Economic Recovery 8.30pm: SRS Saving Tax and Building Wealth

iFAST Financial Pte Ltd 10 Collyer Quay

#26-01 (Training Room) Ocean Financial Centre Building Singapore 049315

By name, contact number, email
Southeast Asia – Choice Investments are now closer to Home
Southeast Asia, the epicenter of the 1997 Asian Financial Crisis, is now experiencing solid economic growth despite all the uncertainties in the global world. The region has been a better source of growth than the other more cyclical markets in North Asia, and hence a sweet spot for Asian Equities investments.
The growth outlook of Southeast Asia region is expected to remain robust, well-supported by strong domestic demand and foreign investments. Most Southeast Asia governments have maintained sufficient monetary and fiscal policy space to provide stimulus when necessary. Today, Southeast Asia is in a much better position to weather any new crisis from the developed world.
Time to Take Stock of the U.S. Economic Recovery
The U.S. economy is looking better and better each day - unemployment rate has continued to decline in 2013, while home prices have climbed, boosting consumer confidence. Many U.S. companies today are more productive, more profitable and less burdened by debt. Even more impressive is the fact that U.S. exports set a record in 2012 despite a slowdown in the world economy and decline in world trade volumes. The recent discovery of large quantities of shale gas in the U.S. is also expected to lead to a strong revival in manufacturing, allowing firms to enjoy cost advantages over their foreign competitors. Manufacturers are expected to employ more workers as a result of the benefits of affordable energy.
Supplementary Retirement Scheme (SRS) - Saving Tax and Building Wealth
The subject of taxation planning contains intricate details that are never permanent. In such cases, one has to look up market trends, new age limits, new monetary limit caps and filing requirements regularly. With our hectic lifestyles, keeping up to date with all these issues can be quite a handful to juggle with. Learn how the SRS can help you to save on taxes as well as enhancing your wealth for retirement.

Perlin Gan,  Vice President of Business Development, Legg Mason Asset Management Singapore Pte Ltd
Perlin handles Legg Mason's Southeast Asia retail channel distribution networks, that includes business development, sales and client services activities. Prior to that, she was with the sales team at Henderson Global Investors (Singapore) Ltd, and Aberdeen Asset Management Asia. She has over 10 years of experience in the fund distribution business.
Madeline Han, Senior Relationship Manager, Retail Fund Distribution, Franklin Templeton Investments
Madeline works closely with private and retail banks, Financial Advisory firms, as well as insurance companies to provide mutual fund investment solutions to investors. Prior to joining Templeton, Madeline was with the Monetary Authority of Singapore (MAS) where she was part of the policy team that formulates and implements market conduct standards for the financial industry.
Alan Tang, Senior Financial Services Director of PIAS,
CERTIFIED FINANCIAL PLANNERTM, Chartered Financial Consultant®, Chartered Life Underwriter®
Having done numerous talks for corporations, unions, ministries and statutory boards, Alan is a revered speaker in the financial seminar circuit.  He is not just effective in delivering the message, but his lessons will help you understand and improve management ofyour finance.
When & Where

Ocean Financial Centre Building
10 Collyer Quay, #26-01
049315


Thursday, 5 September 2013 from 18:30 to 21:00 (Singapore Standard Time Singapore Time)
Add to my calendar
Organiser
Apex Private Wealth Management
Apex Private Wealth Management is a group of advisers representing Professional Investment Advisory Services.
As trend setters in the ever-changing realm of wealth management, our group aims to be a one-stop financial advisory and solutions provider for our clients; helping them plan for their life goals with clearer objectivity, greater convenience and uncompromising service quality. We are THE team of committed professionals who are devoted to giving our clients - Only The Best.