Description
What can be more effective than coffee or wine when you are feeling tired or when you want relax after a hectic day of work?
RELEASE, RELAX & REGAIN for the long term. In this session, I will combine several breathing techniques, voice sessions and a mixed method of sound spa by using different types of instruments and therapeutic percussions to help you achieve the deep relaxation and peacefulness that you have been seeking.
Here are the key 3-in-1 benefits that you can gain in just one session:
What to RELEASE?
The Voice is an amazing transformer which can change a person's mindset and thinking. Through the breathing and voice segment, you will be guided to release your physical and mental stress, tensions and pain through vocal toning. Our voice works in different ways to help us express ourselves and release all the negative emotions within.
How to RELAX?
Every session, Michele will design a different mixed method of sound spa to let you relax during the final 30 mins of the session. Through the session, your entire body will achieve a deep relaxation state. Your body chemistry will also change and auto- activate the healing needed for your body. Your brainwaves will also reach the calm frequency which is either Alpha or Theta.
What will you REGAIN?
Every session is like a monthly reboot and trouble shoot of your mobile phone. It is important to ensure the efficiency of the nervous system and organs to maintain your health and wellbeing. This therapy session will also help you to achieve a breakthrough and allow you to speak or sing more confidently with a clearer and brighter voice. Through the session, you will realize and find out your hidden strengths and the inner power of your voice and entire self.
Benefits:
Your voice will get energized and tuned from this insightful group practice
Experience how your own powerful voice vibrations can help to massage your entire body including your spine, lower back and internal organs
Gain clarity in life and receive new inspirations to lead to a fresher mind
Achieve heart opening and muscle relaxation through singing a variety of tones and a mixed method sound spa which has been proven by scientific research
This session is 100 % guaranteed to change your life. Michele has helped many people with her voice and sound therapy, in Singapore and overseas. Free your voice and ready yourself for a brand new you. Everyone deserves the best. When you can project your voice beautifully, your entire life journey will be so different and full of excitement. Don't be shy, just be yourself!
Miracle of Voice and Sound Therapy
Michele Chong
Tuesday 18 February 2020
7.30pm – 9.00pm @ SGD33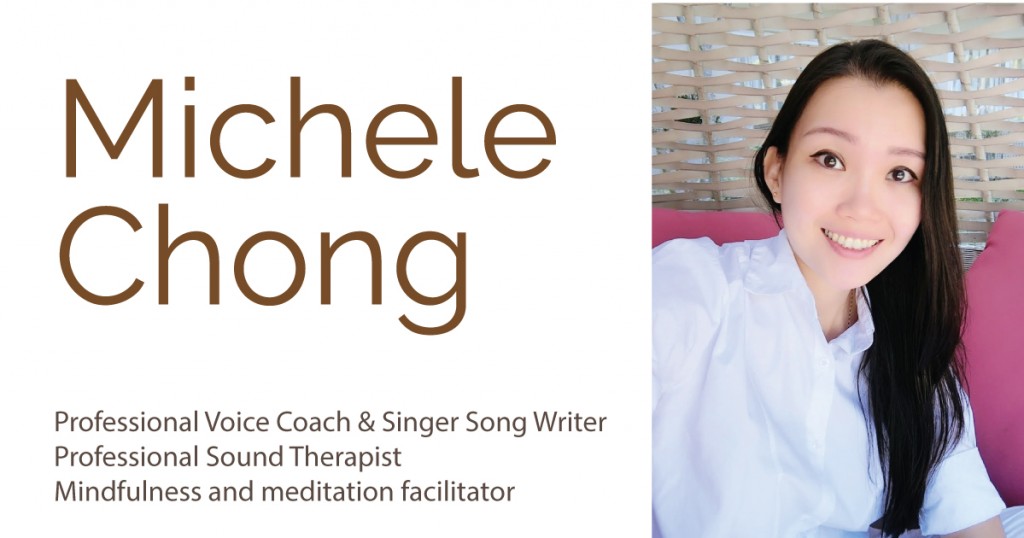 Michele's favourite quote is "Nothing is Impossible". She believes strongly in what she is doing and loves helping people, especially the less fortunate. She hopes that everyone will discover their mission in life and work wholly towards it with positive energy and trust!
Learn more about Michele here.