Description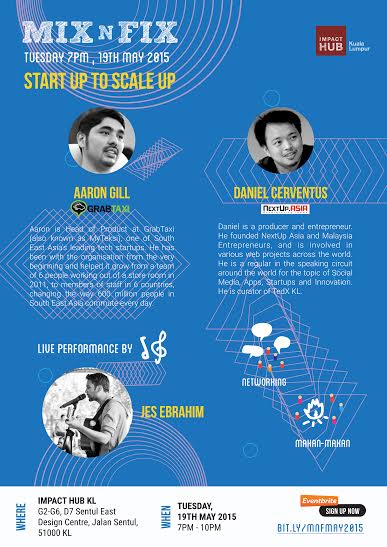 The Start Up scene in Malaysia has witnessed significant growth over the last couple of years, thanks to the greater support and initiatives from public and private sector. So in this month's Mix n Fix: Start Up to Scale Up edition we want to showcase some of these awesome players in the sector. Our guest speakers will share with us their respective journey's and experiences in running succesful startup's in Malaysia. So whether you are running a startup yourself, or have enterprising ideas of your own or you just curious about what it takes to run one, then this month's Mix n Fix meetup is surely the event to be at!
What's In Store For You
Hear the stories of Aaron and Daniel's Startup journey

Watch live performance by Jes Ebrahim

Enjoy games, networking and delicious food
How to Get There?
Rail: (LRT or KTM) commuter trains are available and both stations are conveniently a 5 minute walk away from D7 office building. Note if you using the LRT, your final destination will be the Sentul station (not to be confused with Sentul Timur station). For the KTM you will drop off at the Sentul station.
Hosted By

The Personal Data Protection Act 2010 ("PDPA") came into force
on 15 November 2013 to regulate the processing of personal data
of individuals in transactions and for matters connected therewith. In
view of the PDPA implemented to safeguard the usage of Personal
Information as defined therein, we are required as an organization to
provide you with a privacy notice which includes (i) what personal data
we collect, (ii) how we collect your personal data, (iii) the purposes
for collecting such data, (iv) disclosure of your personal data to third
parties (v) your right to request for access to, and correction of the such
personal data and (vi) the options you have on direct marketing.
In compliance with PDPA, your Personal Information in our database
will be safeguarded and will not be shared without your consent.
Organiser of Mix n Fix: Start Up to Scale Up
Impact Hubs are where change goes to work. Part innovation lab, part business incubator, and part community center, we offer our members a unique ecosystem of resources, inspiration, and collaboration opportunities to grow impact.
We believe a better world evolves through the combined accomplishments of creative, committed and compassionate individuals focused on a common purpose.
Joining our diverse community of members and collaborators will inspire, connect, and enable you to develop your best work every step of the way.