Description
Learn to design and code your own mobile app & see it live on your phone!
Apps are everywhere! But have you ever wondered what goes into the making of an app? In this course, students will learn how to use human-centered design to build a game/animation (mobile) app using App Inventor 2 platform. App Inventor is an intuitive, visual programming environment that allows everyone - even children - to build fully functional apps for smartphones and tablets. Deploy the app on their own phones & empower them with the potential to impact the world!
Keepin' it Short & Snappy
For kids ages 10-13

16 hours in total

Design, Code & Deploy your very own app

No pre-requisites, but we recommend completing Scratch levels 1 and 2 before joining this workshop.

Open Source Tools: Continue the learning at home
---
"My kids had a blast & came home armed with knowledge & information which they were excited to share with us." - Joanne, Parent
---
"There's an app for that!"
The world 10 years ago was real different. There were phones... but no smartphones just yet (real popular ones I mean).
Would we have imagined that now entire businesses are built on apps? It's become an essential part of our lives, impacting us in so many ways. Spotify, Uber, Pokemon Go! (ok, maybe not the last one for me)
Now imagine if anyone, even kids, could go from playing with your phones, to creating their own apps & making that same lasting impact on your lives.
Wouldn't that be awesome?
The good news is... it's easy to get started & you'd be amazed at what kids can build.
This is the App Inventor 2 coding editor.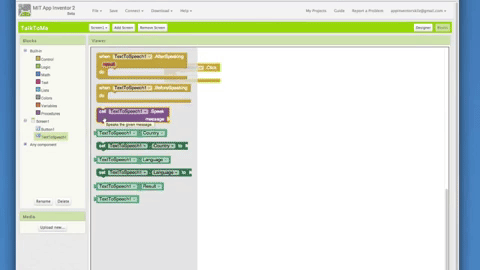 App Inventor 2 is like Scratch - a visual programming language that allows kids to drag, drop and connect code blocks together to build their own games & animations. Instructors walk students through the fundamental programming concepts of developing the mobile app such as datatype, loops, conditionals, logical sequencing. In addition, instructors also go through popular apps like Google Map and Flappy Bird to help students understand what makes a great mobile app. In this Mobile App Development course, kids combine User Centered Design theory and techniques with more advanced programming concepts to build mobile apps that are fun, engaging and intuitive.
See how easy that was?
It's almost... magical.
We can't wait to see the apps that your kids can come up with.
Oh! The Stuff you'll learn!
Introduction & History of the mobile app
Getting started on App Inventor
Design & Wireframing the User Interface
Using cameras, sensors of the phone
Working with databases
Share & Present... on your phone
Life Skills Learnt
Logical Thinking
Problem Solving
Design Thinking
Presentation Skills
---
Pedagogy
No lectures. No memorisation. No ONE right answer. Like real life, we're all about trying things out, failing, figuring what went wrong & trying again. These are the skills & mindset that will last a lifetime. Let's get kids to learn how to learn.
Because the kids who learn to learn become curious, inventive, resourceful human beings who solve real world problems to make meaningful impact.
Parents love us
"...and for the first time he is not running to play other people's creations but his own... I am absolutely delighted in the 'mindset' change in my son's attitude." - Emma, Parent
"Thank you for a wonderful and exciting enrichment program that is so much more than academics.. it's fun but for me as a mum, an important future skill set for my son."- Rachel, Parent
Got more questions on this course of awesomeness?
Read our FAQ section below!
Call us & we'll call you back! +65 3159 0980
Email us! hello@saturdaykids.com
Frequently Asked Questions
1. My child is new to computers & programming. Will he/she be able to follow?
Although there are no pre-requisites for the Mobile App course, we recommend kids complete levels 1 and 2 of Scratch before joining this workshop.
2. My child is younger than 10. Can he/she join?
The Mobile Madness! Make your Magical App course is recommended for kids who are 10 and above. Get in touch with us if you'd like a recommendation for your child.
3. I've enrolled my child, what will he/she need to bring?
We'll provide all equipment and materials, but you may want to bring a jacket and light snacks in case he/she gets hungry.
Please note:
This workshop will proceed with a minimum of 4 tickets sold. We will inform you in advance if the workshop is cancelled. Refunds will be made accordingly. Unless otherwise notified, the workshop will go ahead.
We will be filming and taking photographs of the children in our workshop. By registering a child's attendance at this workshop, parents/guardians grant Saturday Kids a perpetual licence to use the student's work, photographs or videos of the student, and other materials for purposes such as publicising or promoting our workshops/events and the students' accomplishments on Saturday Kids' website or on our partners' websites.