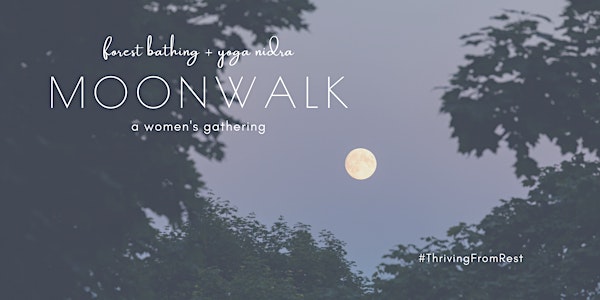 Moon Walk: Forest bathing + Yoga Nidra (a women's gathering)
Under the midnight blue sky, we gather to rest, refresh and renew mind, body and spirit. In quietude, re-membering our natural rhythms.
When and where
Location
Singapore Botanic Gardens 1 Cluny Road Singapore, 259569 Singapore
Refund Policy
Contact the organiser to request a refund.
About this event
#Moonwalk is a monthly night edition nature and forest bathing class for women only. In this open/public class, join Youmin - a pioneer and leading Certified Nature and Forest Therapy Guide in Singapore to explore and connect with night, nature and rest. Each month, we gather at different sections of the Singapore Botanic Gardens or different venue (please check details in the confirmation email after registration).
Through forest bathing and yoga nidra, you will step easefully into your white space - a space where you can do nothing, a space for you to just be, a space where you can truly rest, renew and refresh.
In forest bathing, you will immerse in nature with your senses; in yoga nidra, you will attune to the sensations in your body. Together, we give our minds a rest, and return to bodyfulness.
*Only for women aged 16 and above.
**Sincerest apologies that we cannot accommodate any latecomers.
*** Important class details such as the exact meeting point etc. will be sent to you via a confirmation email from Eventbrite after registration. Please read and retain that email.
How you may benefit
Discover and enjoy a night nature experience in a safe and comfortable way.
Practise caring for yourself, receiving and giving in a safe space.
Rest, refresh and enjoy physiological health benefits of forest bathing and yoga nidra backed by Science research.
What to expect
Class will take on a slow immersive and restful pace. It is not physical and not strenuous.
Class is held at night but it will not be completely dark. The space is quiet but safe. The group will always be within sight of one another.
A certified guide will facilitate the class.
Light tea and snacks (individual packets) are provided, but you must bring your own cup.
You must bring along a yoga mat or beach towel or something to lay on.
No prior experience in forest bathing and/or yoga nidra is required.
You can find out more about forest bathing and/or yoga nidra here.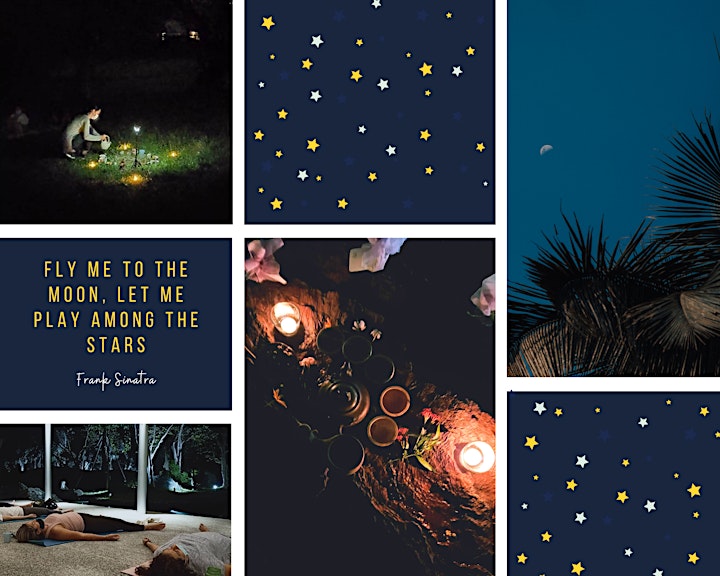 Payments and registration
We also accept payment via Paynow and/or bank transfer. If you prefer to pay via Paynow and/or bank transfer, please write to hello@xiunatureconnections.com or DM us on our Facebook or Instagram to complete your registration and reserve your spot.
Reviews
"... You will have to experience it yourself to understand the beauty of forest therapy. The recent Moonwalk gave me an unforgettable night nature bathing with the almost full moon." - Sherry T.
"Attend a session to learn how to slow down, observe with all our senses and connect with Mother Earth. The forest is the greatest healer, and Youmin is a terrific guide to open the door to grow back our roots with nature." - Gina G.
"I will recommend forest bathing for anyone who is looking to decompress from a hectic or stressful lifestyle. The session helped me to appreciate our natural surroundings and witness the significant impact it contributes to our physical well-being. The experience immediately refreshed my mood and made me feel better emotionally at the end of the session." - Katherine B.
"...we connected with ourselves and nature amidst the gorgeous setting ...so happy that I finally joined this ... what a magical experience!" - Alexis N.
Private groups and bookings
If you will like to book a private, group or corporate session, please write to hello@xiunatureconnections.com .
COVID-19 restrictions and safety measures
Let's keep this experience safe, enjoyable and enchanting for everybody. We are committed to holding space in a safe and mindful way, and also appreciate your participation in upholding the safety precautions we are implementing:
Limited to a maximum of 5 registered participants only.
Taking temperatures of all participants when we gather at the said meeting point.
Provision of hand sanitizer.
Serving of snacks is limited to individual snack packets.
Hot tea is served, but participants are to bring their own tea cups.
You are required to:
Wear your mask at all times.
Take your temperature when we meet up at the said meeting point. Anyone with a temperature above 38 degree Celsius, and/or showing symptoms including cough, runny nose, sneezing, breathlessness will unfortunately not be allowed to join and/or continue with the class. We ask for your kind understanding please.
Check in and check out using SafeEntry at the garden, where available.
Maintain a safe distance of 1 metre or more (1 arm-length or more) from each other.
Bring your own tea cup.
FAQs
1. Am I suitable for nature and forest bathing if I have never hiked nor spent much time outdoors?
Nature and forest bathing is designed to be accessible to everyone of varied fitness and outdoor experience. The class is conducted at a slow pace and we typically cover no more than 800 m for the entire session. We typically walk along well-established pavements in the gardens and grass lawns, and is very convenient and safe for everyone. The routes are also mostly level and no significant physical exertion will be required.
2. What if I have never participated in forest bathing and/or yoga nidra before, can I still join the moon walk edition?
Yes, you can! No experience is required.
3. What if it rains?
This is a light rain or shine event. Generally, classes are cancelled only in the event of very heavy downpour or if there is risk of lightning. In such situations, we will personally contact you at least 30 minutes before the meeting time to confirm if the class will proceed or be cancelled. For classes that are cancelled by the host/guide, participants can register for another class without any additional charges. However, there will be no refunds.
4. Are we really walking in a forest?
Forest bathing allows a person to connect with nature. Nature exists outside forests too. City gardens, parks and beaches are some examples where meaningful connections with nature can take place and for you to receive your well-deserved mental and emotional recharge.
About your facilitator
Youmin is a certified nature and forest therapy guide and a yoga nidra facilitator. A pioneer and leader in Singapore and the Southeast Asia, she is passionate about sharing nature connections and deep restorative rest for well-being, especially for stressed out and disconnected city dwellers. In this frantic world we live in, she believes that we need to go into the 'rest space' to find ourselves, we need to slow down in a practical manner, and then, we can thrive sustainably. Working with individuals, groups and organisations, Youmin's intention is to support them to rise up as well-rested leaders. She has also guided and taught at overseas workshops, retreats and seminars including Finland, Bangkok, Chiang Rai and the Philippines. Her work has also been shared at international and local conferences, as well as publications. She is also a mentor to trainee guides and is the founder of Xiu Nature Connections.
Please read our Terms and Conditions.
Important class details such as the exact meeting point etc. will be sent to you via a confirmation email from Eventbrite after registration. Please read and retain that email.
We reserve the rights to cancel and/or postpone the session if the minimum number of participants is not met and/or unfavourable weather changes and/or unfavourable pandemic situation. You will be able to register for another session without any further fees.
Questions? Please contact hello@xiunatureconnections.com .