Description
Sound and Silence Healing
Sound and silence are crucial to all living beings. Sounds of different frequencies are created every moment. Interspersing sounds of suitable frequencies with moments of silence help to create balance in our lives. When you know how to select suitable sound frequencies and intersperse them with moments of silence, your body energy, molecules and cells will harmonise and result in balanced emotions and physical body. Your body will start to heal by itself.
In these two special sessions, you will understand:

- How sounds and silence affect your body and voice alignment

- What messages your body is sending you through sound and silence

- How sounds and silence help to cure sickness e.g. relieve stress, headache, insomnia and body aches.

- Understand your body cells and organs' frequencies and heal it with your own voice
Music & Voice Healing with Michele Chong
Term 2: Fridays on 19 Jan & 23 Mar 2018
7.30pm – 9.00pm @ SGD33 per session
Package Offer: SGD60/per term (2 sessions)
---
Michele Chong
Professional Music Composer & Teacher, Moon Meditation Facilitator, Voice & Energy Healer, Counselor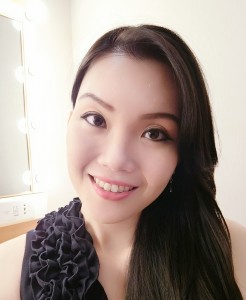 Michele discovered her passion for music and singing at a very young age and she believes that every human is here on earth for a purpose. A talented and versatile instructor, she specialises in teaching vocal singing, piano, electronic keyboard, music composing, music theory, ukulele and guitar etc. She has 10 years of experience teaching music, including percussion, vocal singing, piano and keyboard. She has also taught in many primary schools and is a certified instructor for Active Learning (PAL) and AMIS.
Michele graduated from the London Music College with a Diploma in Vocal Teaching (Distinction). She has also obtained a Certificate in professional Performing and Vocal, Grade 8 Music Theory from Trinity College London and Grade 8 Piano from The Associated Board of the Royal Schools of Music. On top of that, she has obtained a Certificate in Voice techniques from Berklee College of Music.
She is a certified Chinese lyrics composer and is a member with Composer and Authors Association of Singapore (COMPASS). Michele believes that she can use music to spread love and positive energy and she has composed many songs for charity, including SG50 theme songs. A professional instructor with diverse experience, she has performed live in many events held locally and overseas. She held her first mini concert at the Esplanade Recital Hall and released her first group album single called "Ai Wu Qi Xian". Besides performing, she is capable and experienced in hosting events. She received various invitations to be a singing judge for singing competitions organised by organisations and community centres.