Description
Madison Academy of Music proudly presents Musique Mélange (Music Medley), featuring artists from Singapore, Armenia, Ukraine and France.
When you were last engulfed by a perfect "pa de deux", marveled at the technical artistry of a chansonnier or enjoyed the ever familiar tune of "La Vie En Rose" did you ever think, who are the people behind all that music? Could you imagine, that so many familiar tunes are all attributed to the same nation? Musique Mélange is a celebration of music of France!
Our musical program is centered on French music, touching upon classical, jazzy and popular genres, consists of an all-time favorite tunes, well-known chansons and broad range of astonishing melodies, including ever-familiar works from "Notredam de Paris" and "Les Miserables" musicals.
France is widely known for its museums, genteel language, gourmet food and fine wines. Its soil has inspired poets, artists and composers alike, cementing a reputation of France being a cradle of innovations and creativity. Let's toast to that!
Musique Mélange is a show full of unforgettable ambiance, passionate performance and astonishing melodies. All in the benefits of quality time - together with you!
---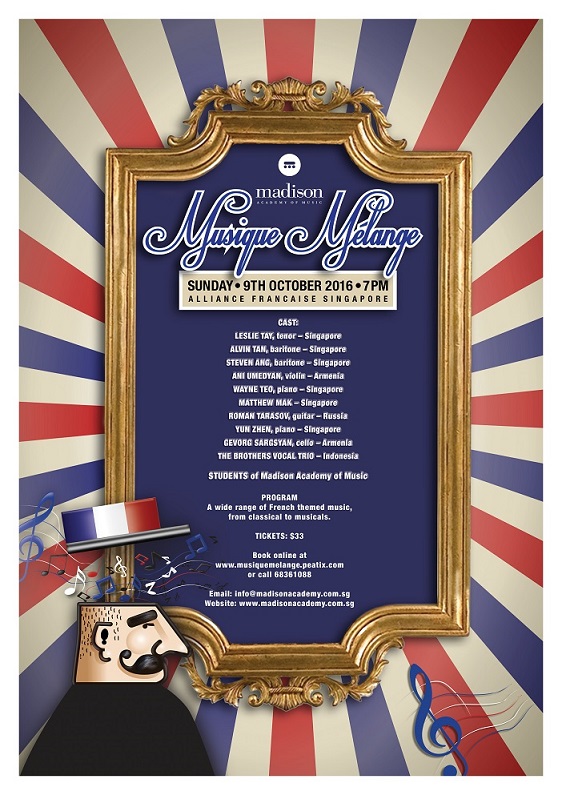 Organiser of Musique Mélange
We are a boutique music school in Central Singapore's Orchard area with a faculty of world-renowned teachers and performers. Aside of lessons we are organizing numerous events in our Academy as well as in other venues in Singapore and South East Asia.
We are not only passionate about growing a new generation of musicians, music lovers, and future patrons of the arts — we are determined to break stereotypes, bend the boundaries and shout out loud - Without Music Life Would Be A Mistake!