Description
Do you know what happened to the villagers in Queenstown during World War II?
Do you know if the 6-inch QF gun pounders at Labrador were used to fire at the Japanese troops during World War II?
My Alexandra Heritage Tour visits the military installations constructed by the British troops to defend the naval outpost at Keppel Harbour and follows the war from Fort Pasir Panjang/Labrador Battery to the massacre at Alexandra Hospital and the neighbouring Boh Beh Kang village.
Participants will hear a first-hand account of the war from ex-villagers at Boh Beh Kang and come up-close with the former military encampments and fortifications at Alexandra Barracks, Gillman Barracks and Fort Pasir Panjang.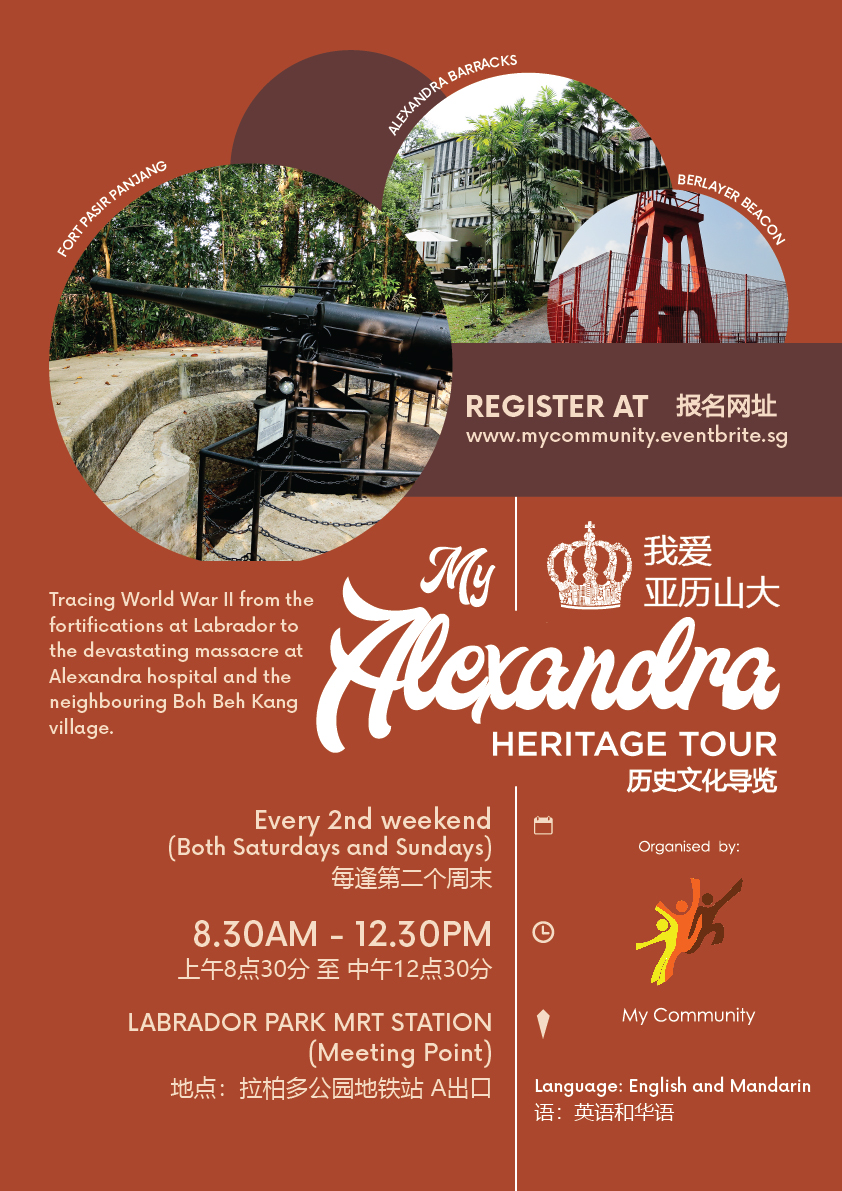 Level of Difficulty: 2.5/5

Who should come?
Everyone is welcome to participate in this exciting tour!
However, this heritage tour requires participants to walk for four hours long and trek some hilly terrain. Hence, it may not be advisable for young children or persons with disability.
Duration & Meeting Place
Approximate Duration: 4 hours (8.30am to 12.30pm)
Language: English
Please arrive at Labrador MRT Station (Ground level) 15 minutes before 8.30am. The tour guides will be wearing red crown T-shirts with a conspicuous "Guide" at the back of the shirt.
The tour will proceed rain or shine. We have never cancelled our tours in the past 10 years, except for LKY.
The tour will end at Tiong Ghee Temple, a stone's throw from Queenstown MRT Station.
What to bring?
Wear comfortable clothes and suitable shoes for a 4 hour long walk
Bring along your headphones (compatible with headphone jack). These headphones are harmful to our environment and we are levying S$2 per headphone to encourage all participants to bring theirs.
Bring along insect repellent, EZ-Link card, a bottle of water and an umbrella
Asthmatic individuals are encouraged to bring their inhaler.
Disclaimer
By agreeing to participate in the tour, every participant will be responsible for any injury, loss of damage due to careIessness of other actions on his/her part or that of children under his/her charge.
It is compulsory for a parent/guardian to accompany any child of or under the age of 12. children under his/her charge.
For updates:
Visit www.facebook.com/myqueenstown or www.mycommunity.org.sg for updates