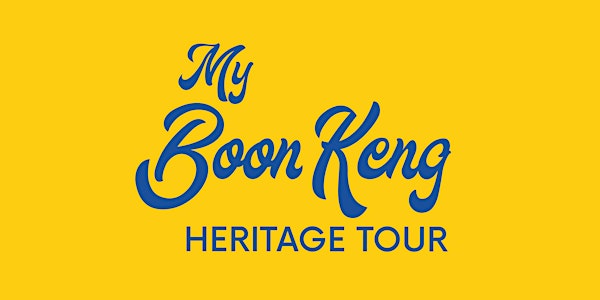 My Boon Keng Heritage Tour [English] (24 September 2022)
Be amazed by the stories of the movement of kampong people living at Boon Keng and Kallang River!
When and where
Location
Kallang MRT 5 Sims Avenue Singapore, 387405 Singapore
About this event
Take a walk with us around the Boon Keng neighbourhood to explore the rich Kampong History, Brick Kilns and developments along the Kallang River.
Learn about how the Kampong villagers travelled across Singapore as they are being resettled in the 1800s. Explore the movements of the people in Kampong Kuchai, Kampong Hock Soon and Kampong Koo Chye as they go about living their everyday lives. Hear the stories of the resettlement of people living in the HDB flats. The tour also features an exclusive visit to one of the oldest charitable healthcare institutions in Singapore: Kwong Wai Shiu Hospital (Saturdays and Sundays) and the first Sikh Gurdwara in Singapore: Central Sikh Temple (only Saturdays).
Who should come?
Everyone is welcome to participate in this exciting tour!
Duration & Meeting Place
Approximate Duration: 3 hours
Language: English
Please arrive at Kallang MRT Station 15 minutes before 8.30am. The tour ends at Kwong Wai Shiu Hospital.
The tour will proceed rain or shine
What to bring?
Wear a mask.
Bring along hand sanitizer, insect repellent, EZ-Link card, a bottle of water and an umbrella
Asthmatic individuals are encouraged to bring their inhaler.
If you have earphones (with a standard 3.5mm audio jack) please bring them along, as we will be using radio guides for the tour!
Attire
We will be entering sites of worship. Please bring a scarf/shawl/bandana to cover your heads.
Please wear respectful attire which includes: (1) a collared, modest shirt or blouse with sleeves, covered shoulders, (2) long pants (e.g. jeans) or skirts that cover your knees, (3) covered shoes.
Please do not wear singlets, sleeveless / spaghetti-strap or low-cut tops, shorts or miniskirts, slippers or sandals. Thank you!
Please do not bring cigarettes, alcohol, meat or any food, or dangerous items with you or in your bag to be respectful to our different places of worship!
COVID-19 Safety Precautions
Mask wearing is optional.
Please arrive 15 minutes before the tour starts
All participants must be fully vaccinated.
If you are feeling unwell or are tested positive, please do not join the tour.
Disclaimer
By agreeing to participate in the tour, participants will be responsible for any injuries, loss, or damage due to carelessness of other actions on his/her part or that of children under his/her charge.
It is compulsory for a parent/guardian to accompany any child of or under the age of 12
Videos and photographs may also be taken during the event. By registering for this event, you give My Community full rights to use the photos for marketing and publicity.
For updates:
Follow us at @mycommunitysg on Instagram and @myqueenstown on Facebook.
Visit mycommunity.org.sg to learn about our initiatives.