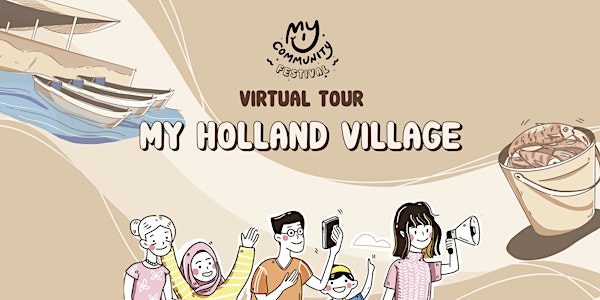 My Holland Village Virtual Tour
Find out more about the most charming neighbourhood in Singapore through a virtual tour!
Date and time
Sun, 13 Dec 2020 04:00 - 05:30 PST
About this event
Have you visited Singapore's last remaining Hakka ancestral hall?
Do you know that the Home Ownership for the People Scheme was launched in Commonwealth in 1964? (where former PM Lee Kuan Yew took iconic photographs)
My Holland Village virtual tour traces the evolution of Singapore's first satellite town from a rubber plantation in the 1870s to a bustling military village in the 1930s and a renowned expatriate centre and tourist attraction in the 2000s.
Participants will hear a first-hand account of this transformation from colourful figures in Holland Village and Commonwealth and get up-close to stall holders in Commonwealth and Tanglin Halt markets and hawker centres.
Duration & Meeting Place
Approximate Duration: 1.5 hours (8pm to 9.30pm)
Date/Day: Sunday, 13 December 2020
Language: English
Venue: Zoom Live-Streaming (A zoom webinar link will be sent to the participants 1 day before the event)
For updates: Visit www.facebook.com/myqueenstown or www.mycommunity.org.sg for updates
About the organiser
My Community Festival is a ground-up initiative showcasing Singapore's best kept secrets and community stories through immersive tours, tastings and other cultural and heritage experiences.
4 Things To Know About The Festival

It is curated in collaboration with heritage practitioners, business owners, legacy brands as well as a number of religious and cultural institutions.

It builds upon the demand for culinary travel, cultural exploration and activity-based travel experiences - evident from the consumption habits of locals and tourists alike.

It aims to connect people from all walks of life through the festival platform in the hopes that they may go on to expand their social networks.

The festival has taken on an added dimension as a result of the ongoing Covid-19 pandemic. It serves as a means in which to re-introduce locals back to the island's ethnic enclaves and to support local, legacy establishments in a triumphant display of resilience as a community. Let's come together to celebrate the Singaporean spirit after a challenging 2020.