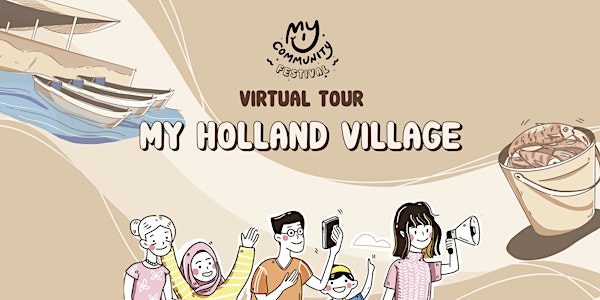 My Holland Village Virtual Tour
Find out more about the most charming neighbourhood in Singapore through a virtual tour!
About this event
Have you visited Singapore's last remaining Hakka ancestral hall?
Do you know that the Home Ownership for the People Scheme was launched in Commonwealth in 1964? (where former PM Lee Kuan Yew took iconic photographs)
My Holland Village virtual tour traces the evolution of Singapore's first satellite town from a rubber plantation in the 1870s to a bustling military village in the 1930s and a renowned expatriate centre and tourist attraction in the 2000s.
Participants will hear a first-hand account of this transformation from colourful figures in Holland Village and Commonwealth and get up-close to stall holders in Commonwealth and Tanglin Halt markets and hawker centres.
Duration & Meeting Place
Approximate Duration: 1.5 hours (8pm to 9.30pm)
Date/Day: Sunday, 13 December 2020
Language: English
Venue: Zoom Live-Streaming (A zoom webinar link will be sent to the participants 1 day before the event)
For updates: Visit www.facebook.com/myqueenstown or www.mycommunity.org.sg for updates