Description
Your bundle of joy is the most wonderful & exciting event that will change your life. The journey is often overwhelming for first-time parents and never the same for experienced parents. To empower all mothers, we have prepared key topics to prepare you for your pregnancy and breastfeeding journey in our upcoming seminar.


Antenatal Tests made Easy


Your 9 Months Diet: The Effect on Mum & Baby


Thomson Medical: Breastfeeding Essentials
Live Baby Demonstration: Handling your Little One with Love


Join us at "My Pregnancy My Way" for an engaging afternoon where you can learn essential tips from our panel of maternity experts from Thomson Medical. Understand more in an interactive setting on how Thomson Medical: Breastfeeding Essentials will help Pregnant Mums adopt right practices to successfully nurse your baby. Thomson Medical proudly supports all mothers in their breastfeeding journey.
Our friendly staff will be around to share with you more information on hospital admissions, confinement nanny services and wellness programmes to guide you through this journey. You will also get to enjoy a complimentary Confinement Food Tasting session and receive a goodie bag worth more than $120!
Ready for My Pregnancy, My Way? See you on 29 September 2018, Saturday!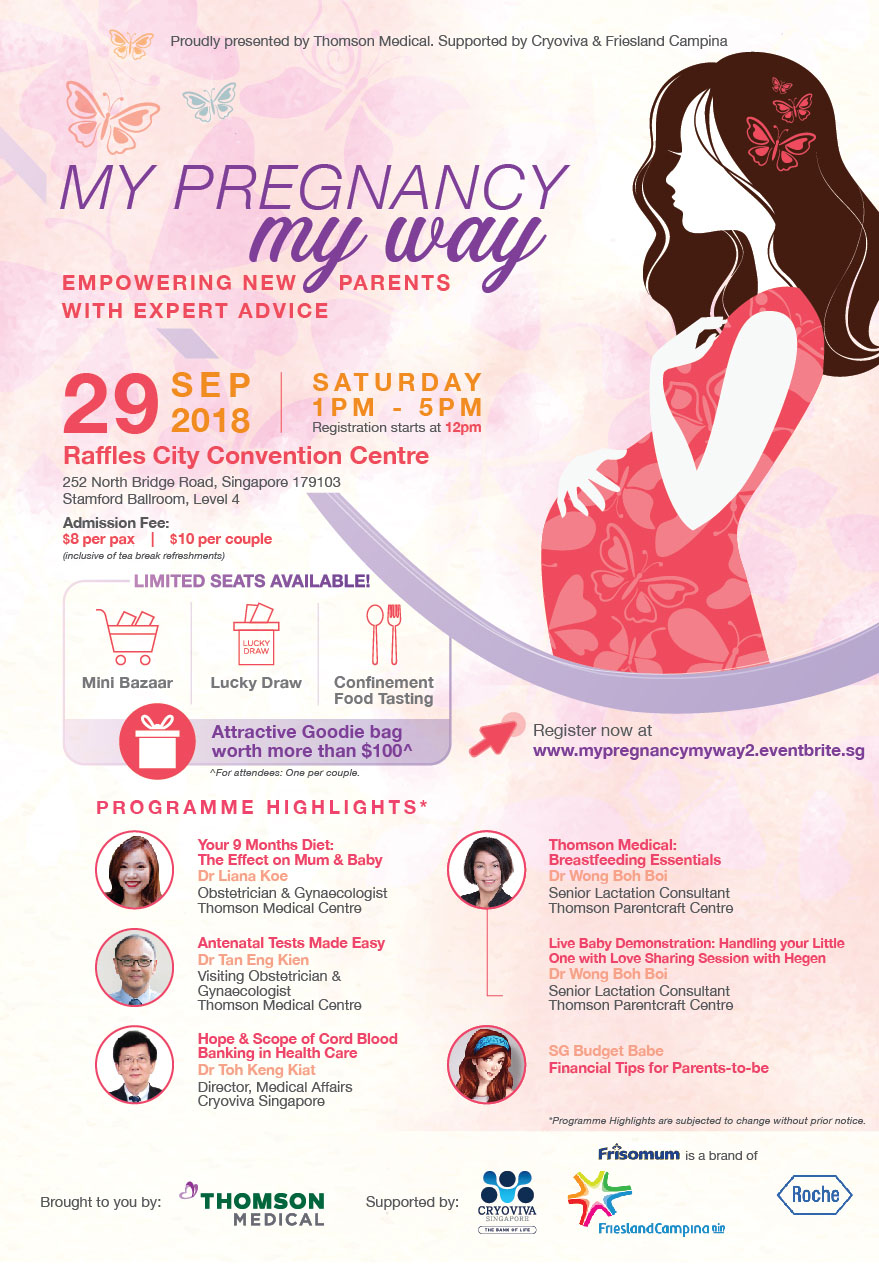 Dr Tan Eng Kian – Antenatal Tests made Easy
Topic Synopsis:
Dr Tan Eng Kien is an experienced Visiting Obstetrician in Thomson Medical, with a special interest in managing high risk pregnancies, water births and obstetric ultrasound imaging. During pregnancy, Mothers typically go through tests to assess the health of their baby. Dr Tan will guide you on a step by step process of these tests and when a mother should do NIPTs and OSCARs. This topic is especially relevant to mothers who are in the early stages of pregnancy.
Dr Liana Koe – Your 9 Months Diet: The Effect on Mum & Baby
Topic Synopsis:
Dr Liana Koe appreciates that pregnancy should be cared for holistically, with compassion and a listening ear, delivering the best possible medical care to create an enjoyable pregnancy journey for her patients. During your 9 Months, your diet is the foundation in ensuring that both the baby and mother are well nourished and healthy. Many mothers often go down a road of an excessive diet or fail to nourish their unborn child properly. In this 40 mins, Dr Liana will explain how your diet will affect your child, your body's reaction in different trimesters and the common asked question, "Should I opt for Natural or Caesarean Section birthing?"
Dr Wong Boh Boi - Thomson Medical: Breastfeeding Essentials
Live Baby Demonstration: Handling Your Little One with Love
Topic Synopsis:
Dr Wong Boh Boi is a veteran in the breastfeeding community and has championd many mothers over the years in their breastfeeding journey. Thomson Medical understands that many women face frustrations in breastfeeding their infant, primarily due to a lack of mental preparation during their pregnancy phase. Mothers-to-be, Husbands and even mother-in-laws have benefited greatly from this 1 hour programme that mentally prepares a mother and her companions on this breastfeeding journey. Dr Wong is also a proud mother who have experienced breastfeeding and hopes that Mothers-to-be will prepare & strengthen their mind set to breastfeed, just like the thousands of mothers who she have educated