Description
Congratulations on your bundle of joy!
SmartParents is proud to present My Pregnancy, My Way on 21st September 2019 and welcomes all soon-to-be parents to join us for an afternoon of education and interactive activities!
To strengthen the mindset of parents-to-be, we have prepared a variety of topics to empower you with fundamental learnings for pregnancy and post-natal journey.

Nutrition for Your Baby's Development
Essential Tips for Easy Trimesters
Taking Charge of Your Confinement Journey
Working towards Successful Breastfeeding


Learn essential tips from Thomson Medical's panel of maternity experts and pick up tips and tricks you will need for your journey. You will also get to enjoy a complimentary Confinement Food Tasting during the seminar and receive a goodie bag worth more than $100!
Ready for My Pregnancy, My Way? Register now and see you on 21st September 2019 at 12pm!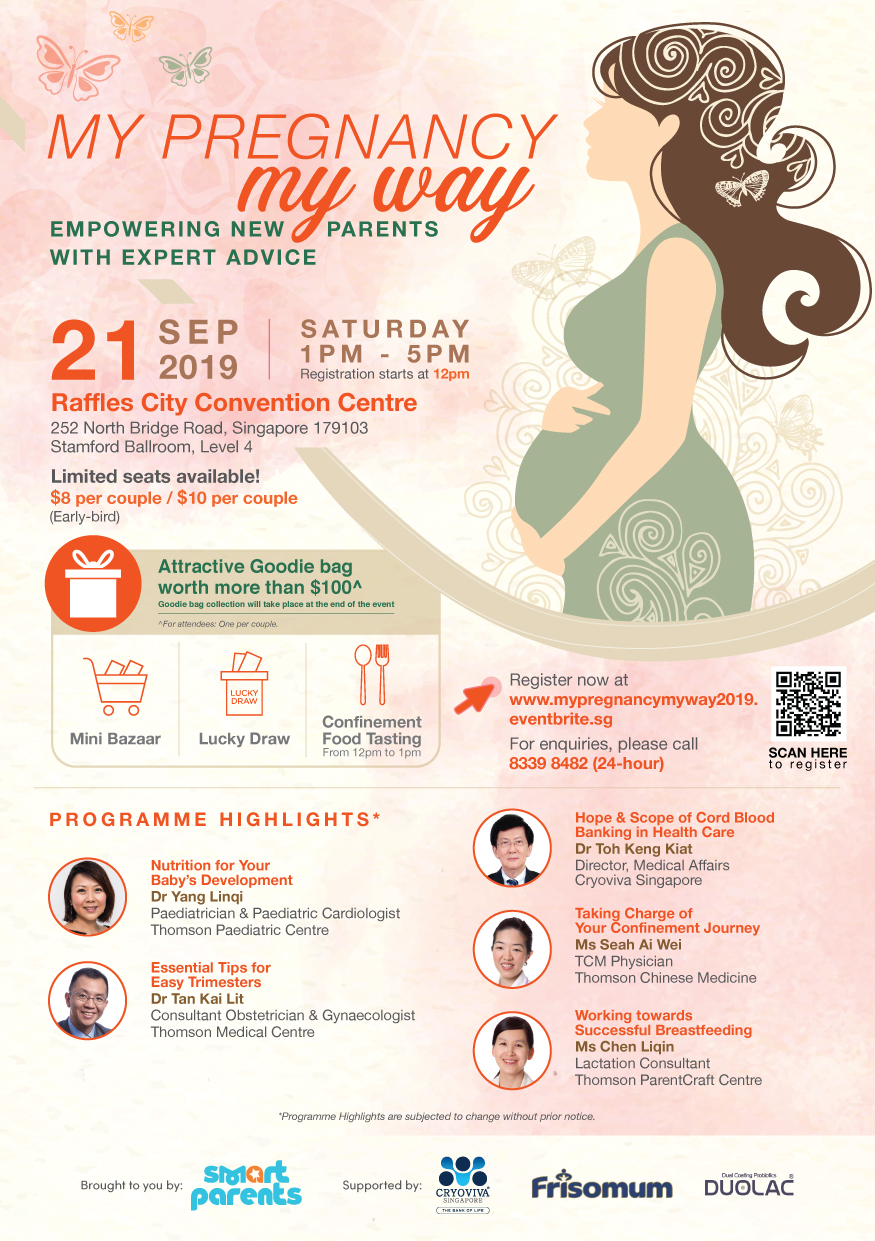 FAQs

1. Can my elder child come along? And do I have to purchase a ticket for him/her?
Yes, we are a family-friendly event and no additional tickets required for children under the age of 12.

2. Can I get a refund? I need to be somewhere else at the last minute and won't be able to attend.
Sincere apologies, but we won't be able to issue any refunds for this event.

3. Can I still get a goodie bag if I arrive late, as I can only attend the seminar later due to xxxx....
Sure. You may still get the goodie bag at the end of the event, as long as you have checked-in at the registration counter prior to the tea break session.

4. Due to the F1 Grand Prix event, will Raffles City Convention Centre be affected by the road closures?

Effective 18 Sep 0001hrs, partial road closures will kick in for the upcoming F1 2019.

1) Entry into both The Fairmont, Swissotel & Loading bay will only be via Bras Basah Road & exit will be via Beach Road. On 20/21 Sep, 7pm to 8.45pm & 10.15pm to 1am (& 22 Sep, 1630hrs to 2000hrs & 2200hrs to 0100hrs), Fairmont vehicles leaving the hotel driveway will not be able to cut across Bras Basah Road in front of Raffles hotel to prevent traffic congestion while cutting across, they will exit the same route as Swissotel.

2) Swissotel will be converted into 2 way traffic from 18 Sep 0001hrs till 24 Sep 0530hrs.