Let's explore the graves and tombs which illustrate the 700-year of history in Singapore.
About this event
Do you know about the Temenggongs' roles in the development of the ports and roads in Singapore? 
My Telok Blangah heritage tour traces the 700-year history of Singapore as a prosperous port city at the southern tip of Peninsula Malaysia, from a trading emporium founded by the legendary Sang Nila Utama in 1299, to a pirate-infested free port established by Sir Stamford Raffles in 1819 and a modern metropolis in the 21st century.
The tour features an array of national monuments and historical sites including Masjid Temenggong Daeng Ibrahim, Radin Mas Ayu and Keramat Bukit Kasita
Who should come?
Everyone is welcome to participate in this exciting tour!
Duration & Meeting Place
Approximate Duration: 2.0 hour (2 sessions at 8.30am and 9am respectively)
Language: English
Please meet at Harbourfront MRT Station Exit D ten minutes before the start of the tour.
The tour will proceed rain or shine.
The tour will end at Bukit Kasita (Block 102 Bukit Purmei Road)
What to bring?
Wear a mask, comfortable clothes and suitable shoes
Bring along hand sanitisers, insect repellent, EZ-Link card, a bottle of water and an umbrella
Asthmatic individuals are encouraged to bring their inhaler.
COVID-19 Safety Precautions
All participants must wear a mask.
All participants must complete the Safe Entry, health declaration and temperature taking before the tour.
Please arrive 10 minutes before the tour for registration
All participants must walk in two groups of five participants
Please maintain a one-metre distance from other participants at all times during the tour.
Please do not sign up for the tour if you are unsure of your schedule. Our volunteers have committed their time to this tour - Your absence is discouraging our volunteers from organising any physical tours.
You must pass this ticket to your friend if you were unwell and could not turn up.
Participants who have signed up for the tour but did not turn up will be banned permanently from My Community's future tours.
Disclaimer
By agreeing to participate in the tour, every participant will be responsible for any injury, loss of damage due to careIessness of other actions on his/her part or that of children under his/her charge.
It is compulsory for a parent/guardian to accompany any child of or under the age of 12
For updates:
Visit www.facebook.com/bukitmerah or www.mycommunity.org.sg for updates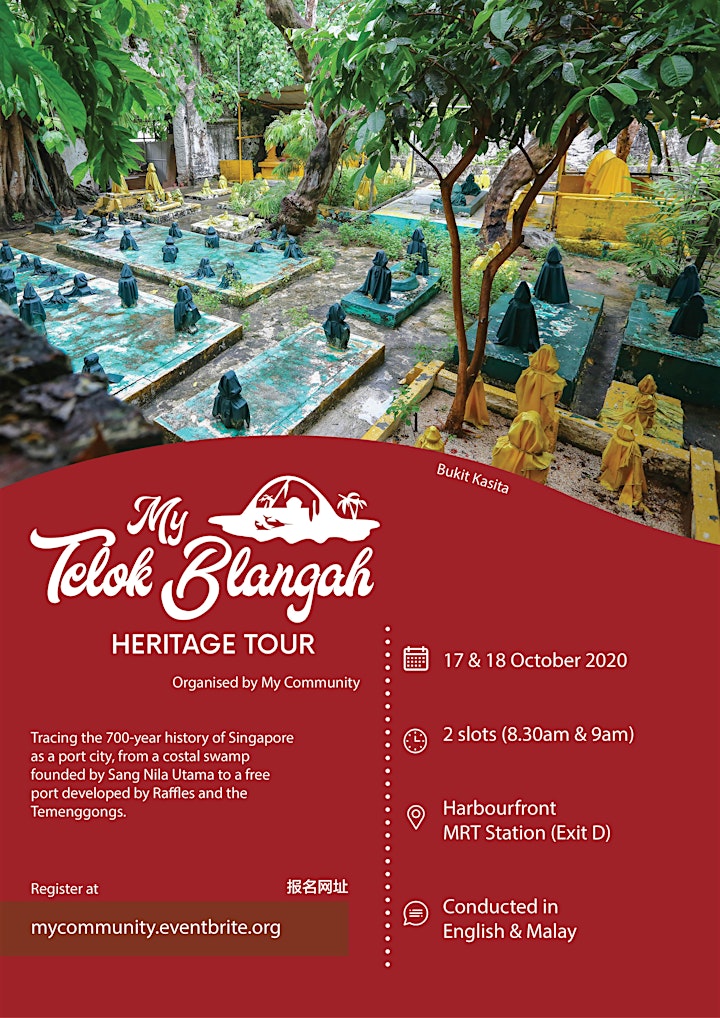 Organiser of My Telok Blangah Heritage Tour [English] (18 October 2020)