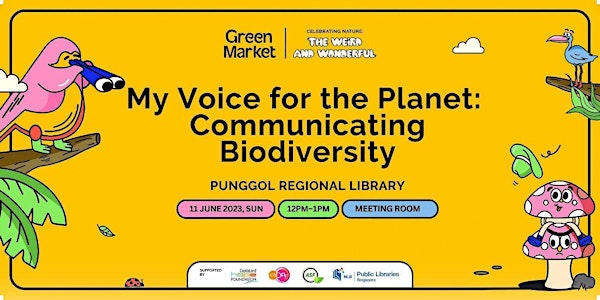 My Voice for the Planet: Communicating Biodiversity | Green Market
Calling all youths! Passionate about nature? Find out what it's like to speak up for biodiversity on the local and international stage.
By GoLibrary | National Library Board, Singapore
Date and time
Sun, 11 Jun 2023 12:00 - 13:00 +08
Location
Punggol Regional Library - Meeting Room (Level 3) 1 Punggol Drive #01-12 One Punggol Singapore, 828629 Singapore
About this event
About this Talk
"Why is biodiversity important, and how can I do my part?" is the message that Gretel carries and that she hopes people will listen to.
As Singapore Youth Voices for Biodiversity's (SYVB) Chapter Coordinator, Gretel has had many opportunities and experiences in communicating biodiversity to the public.
She has even attended COP15—the United Nations' Convention on Biological Diversity—in Canada as an official youth delegate in 2022.
In a casual setting, hear from Gretel as she shares her personal journey in biodiversity communication, including an introduction to biodiversity and her takeaways from COP15. 
*This talk is suitable for participants aged 13 years and above. 
About the Speaker 
Gretel is the Chapter Coordinator of SYVB. She handles the International side of SYVB. She was also one of the official youth delegates at COP15 for GYBN. 
About Singapore Youth Voices for Biodiversity
Singapore Youth Voices for Biodiversity (SYVB) is the Singapore Chapter of the Global Youth Biodiversity Network (GYBN). It is also the official youth representation at the United Nations' Convention on Biological Diversity (CBD).
Find out more about Singapore Youth Voices for Biodiversity here: https://sgyouthvoicesbiod.wordpress.com/
About Green Market 
Green Market is an annual event that celebrates sustainable living and connects the community to green groups and initiatives they can support. With the theme Celebrating Nature: The Weird & Wonderful, the latest edition of Green Market shines light on the incredible biodiversity we live amongst and calls us to cherish and protect our wondrous world.
Join us for an exciting line-up of digital and in-person activities at Choa Chua Kang Public Library (3 June) and Punggol Regional Library (10 – 11 June). From the mighty mushroom and the magnificent Malayan tiger, to the wonderful wild plants and things secreted beneath the sea… bee there and get to know nature's turtle-ly awesome fun facts through talks, storytellings, board games as well as booths run by green businesses and environmental awareness groups.
The event is supported by CapitaLand Hope Foundation and Asia Sustainability Forum. 
Explore our collection of Green Market programmes here: bit.ly/nlbgreenmarket2023
About the organiser
The National Library Board (NLB) manages a network of 28 libraries, the National Library and the National Archives of Singapore. NLB promotes reading, learning and information literacy by providing a trusted, accessible and globally-connected library and information service through the National Library and a comprehensive network of libraries.