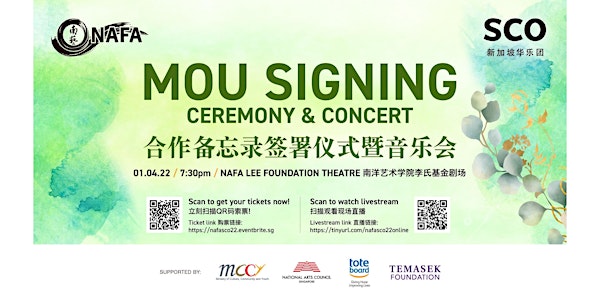 NAFA-SCO MOU Signing Ceremony & Concert
SCO and NAFA jointly present a special chamber music concert featuring NAFA students with their instructors, who are also SCO musicians.
When and where
Location
Lee Foundation Theatre 151 Bencoolen Street Singapore, 189656 Singapore
About this event
The Singapore Chinese Orchestra (SCO) and Nanyang Academy of Fine Arts (NAFA) will sign a three-year Memorandum of Understanding (MOU) to formalise partnerships for the preservation of traditional Chinese arts, music, and culture. This special chamber music concert highlights the achievements by NAFA students with their instructors, who are also SCO musicians.
Nine SCO musicians — Sheng Principal Guo Changsuo, Yangqin Associate Principal Qu Jianqing, Dizi Principal Yin Zhiyang, Pipa Principal Yu Jia, Sanxian Associate Principal Huang Guifang, Guzheng Associate Principal Xu Hui, Suona Musician Liu Jiang, Liuqin Musician Zhang Li and Percussion Musician Shen Guoqin — will perform with 14 NAFA Chinese instrumentalists to present a mixture of traditional and modern works.
新加坡华乐团与南洋艺术学院将签署合作备忘录,签署该备忘录旨在加强与巩固双方合作关系,继续推广、普及和提升华族文化艺术与华乐。此音乐会节目主要以室内乐为主,包含独奏、吹打乐及重奏作品,主要展示多年来新加坡华乐团的导师带领南艺学生的学习成果。
九位新加坡华乐团演奏家,包括:笙首席郭长锁、扬琴首席瞿建青、笛子首席尹志阳、琵琶首席俞嘉、三弦副首席黄桂芳、古筝副首席许徽、唢呐演奏家刘江、柳琴演奏家张丽和打击乐演奏家沈国钦,以及十四位南洋艺术学院的学生将同台呈献多首乐曲。
Friday 1 April 2022, 7.30pm to 9pm
Lee Foundation Theatre, NAFA Campus 3
NB: Please show the following at the front-of-house: (a) COVID-19 vaccination status; (b) your admission e-ticket. Please note that:
Audience members must be masked.
Audience members are to remain static and not move around the venue during the performance. There should be no audience participation in a live performance.
There should be no physical interactions between audiences and performers (e.g. autograph/photograph sessions, inviting members of the audience on stage).
A safe distance of 1m is to be maintained between audiences and performers at all times.
Enquiries: 6512 4179
Email: music@nafa.edu.sg
Website: www.nafa.edu.sg