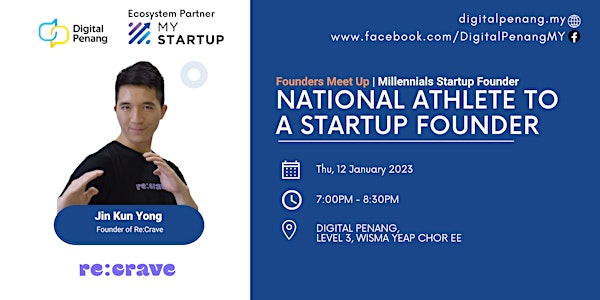 National Athlete to Startup Founder
Join us so you can take advantage of this golden opportunity to meet and listen to this enthusiastic founder's journey.
When and where
Location
Level 3, Digital Penang, Bangunan Wisma Yeap Chor Ee Pengkalan Weld George Town, Pulau Pinang 10300 Malaysia
About this event
For your attention, this event is open to the public interested in learning more about a founder's journey. Feel free to come and share it with your friends and families. *not an exclusive event for founders*
About this event
Entrepreneurship is a difficult journey, and occasionally we have no idea what we want to do with our lives. Join us to hear this insightful presentation from our speaker, a former national athlete who will discuss his transition from athlete to tech lead to founder of a tech startup.
About the speaker:
Jin was a former national athlete, tech lead, Flutter developer, and product manager. He might be a million steps from that goal. However, he has already made the first step toward learning, developing, and forming connections with brilliant minds.
His life philosophy has been influenced by taekwondo and Olympic values. His outlook on life is generally positive, and he loves spontaneity.
He has, however, also experienced the worst mental state imaginable, including that "dark corner" and the never-ending spiral abyss (only those who went through it will understand).
He can relate to and understand those who have experienced mental hardship because of this, and he can also offer hope.
About Re:crave :
Founded in 2022 Malaysia, Re:Crave is an AI Powered Social-Commerce Marketplace that enhances the online gift shopping experience through social connections while offering gift suggestions suited to the sender and receiver preferences.
To find out more about Re:Crave to check out this link: https://recrave.co/
To find out more about Digital Penang initiatives and follow us:Facebook - https://m.facebook.com/digitalpenang.myInstagram - https://www.instagram.com/DigitalPenangMY/