[Open To Public] Courage, Hope and Love in the time of a pandemic Art Exhibition
About this event
From 3rd to 5th December 2021 (11am - 7pm), Visual Arts Centre will host the art exhibition – Courage, Hope and Love in the time of a pandemic, showcasing a total of sixty six award winning artworks by children and youth between seven to eighteen, who have participated in the inaugural art competition. With the intention to inspire artistic talent and creativity, and to engage the children and youth in Singapore to create original artworks with their reflections on the COVID-19 pandemic – the art competition themed "Courage, Hope and Love in the time of a pandemic"
Courage, Hope and Love in the time of a pandemic is an art competition organised by Visual Arts Centre and supported by major art societies in Singapore - the Federation of Arts Societies (Singapore), Singapore Watercolour Painting Society, the Lanting Art Society, and the Siaw-Tao Seal Carving and Chinese Ink Painting Society. A prominent judging panel for the art competition is comprised of established artists and leaders of art societies.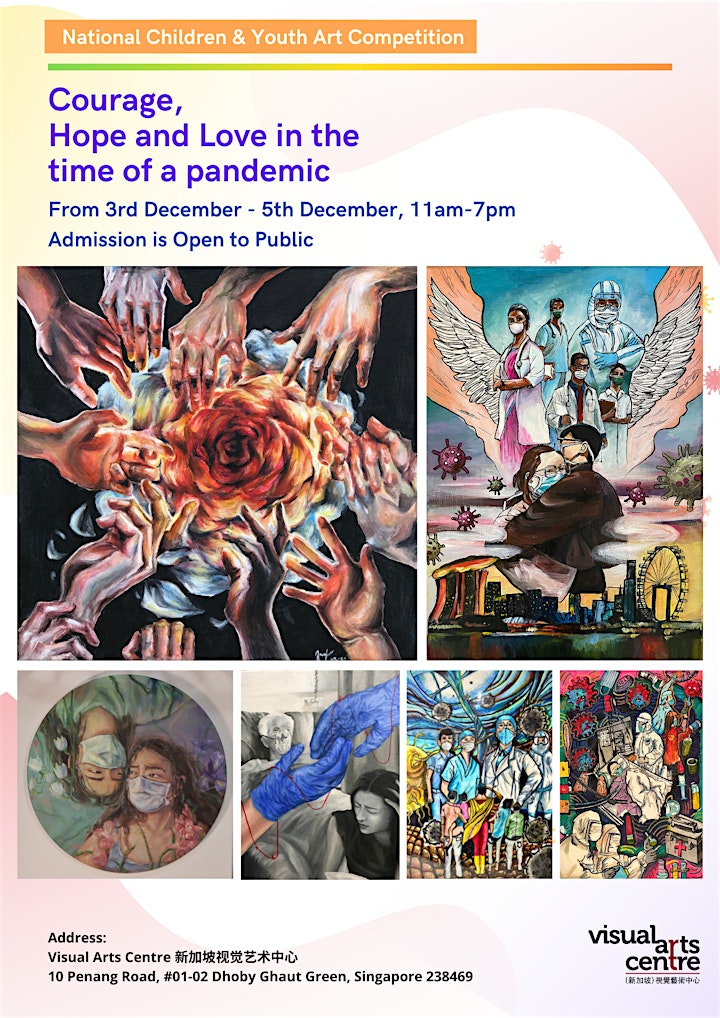 Organiser of NATIONAL CHILDREN AND YOUTH ART COMPETITION – COURAGE, HOPE AND LOVE IN THE
Visual Arts Centre - Art Studio is a professional art school offering a variety of professional art courses, tailored to your level of experience and requirements. Art courses and workshops are conducted by professional artists and follow an academic art teaching structure. Following a rigorous curriculum, students will acquire the skills and techniques of drawing and painting, and be able to compose their own masterpiece to bring home in a relatively short period of time. Besides providing art instruction and demonstration, our professional art trainers focus on guiding students to achieve their personal artistic goals and art style.
Our Art Courses:
Drawing and Sketching
Oil Painting
Creative Acrylic Painting
Workshops and Tailored Courses