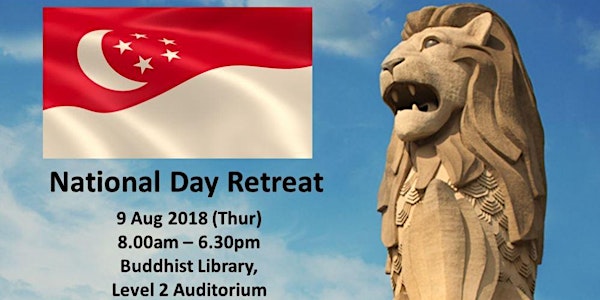 National Day Retreat 2018
Date and time
Thu, 9 Aug 2018 08:00 - 18:30 +08
Location
The Buddhist Library, No.2 Lorong 24A Geylang Singapore 398526 The Buddhist Library, No.2 Lorong 24A Geylang Singapore 398526 Singapore
Description
8.00am – 8.20am Observing the Higher Sila (8 Precepts)
8.20am – 8.40am Puja
8.40am – 9.30am Dhamma Talk & Metta Bhavana (Metta Meditation) by Bhante Wimalajothi
9.30am – 9.45am Tea Break
9.45am – 10.30am Mindfulness Meditation by Sis Foo Siew Fong
10.30am – 11.30am Dhamma Talk by Bhante Dhammaratana
11.30am – 12.30pm Vegetarian Lunch
12.30pm – 1.30pm Rest and Individual Meditation (Walking or Sitting)
1.30pm – 2.30pm Mindfulness Meditation by Sis Foo Siew Ee
2.30pm – 3.00pm Tea Break
3.00pm – 4.30pm Dhamma Talk & Discussion with Bhante Dhammaratana, Bhante Wimalajothi, & Ven. Chuan Guan
4.30pm – 5.00pm Walking Meditation
5.00pm – 5.15pm Tea Break
5.15pm – 6.00pm Mindfulness Meditation by Bhante Wimalajothi
6.00pm – 6.30pm Puja and Chanting
About the organiser
www.buddhlib.org.sg
Started in 1983 as Singapore's first public Buddhist book service, the Buddhist Library (BL) aims to promote a holistic understanding and appreciation of Buddhism through study and practice. The BL is not exclusively affiliated to any particular Buddhist school or tradition. Taking on a universal approach to Buddhism, it encourages Buddhists irrespective of school, tradition or orientation, to come together to study, interact and cooperate with each other. The library has established close links with many other Buddhist organisations in Singapore and overseas.
Our Vision:
Well-being through the holistic study and practice of Buddhism.
Our Mission:
To provide a gate-way to the Dhamma through education, sharing of personal experiences and the conduct of mutually beneficial activities in a vibrant and supportive environment.