Nee Soon South Toastmaster Club
About this event
Nee Soon South is a supportive and friendly Toastmasters club.
We welcome people from all walks of life who want to improve communication and kill the butterfly in their stomach when presenting to a large group of people. Our monthly meetings and workshops will provide you a comfortable and warm learning environment where you will be mentor step by step to transform from an average speaker to a charismatic, charming and confident speaker that can influence and motivate people in the workplace and even daily life.
Visit us, take opportunity to improve and practice your public speaking whichever your current comfort level is, you will find Toastmasters club is a safe environment to practice and improve public speaking with constructive feedback.
During pandemic, we adopted online meeting. It is another opportunity for our members to practice delivering speech online. An indispensable skill everyone needs at this time.
Sign up Now and visit one of our meeting.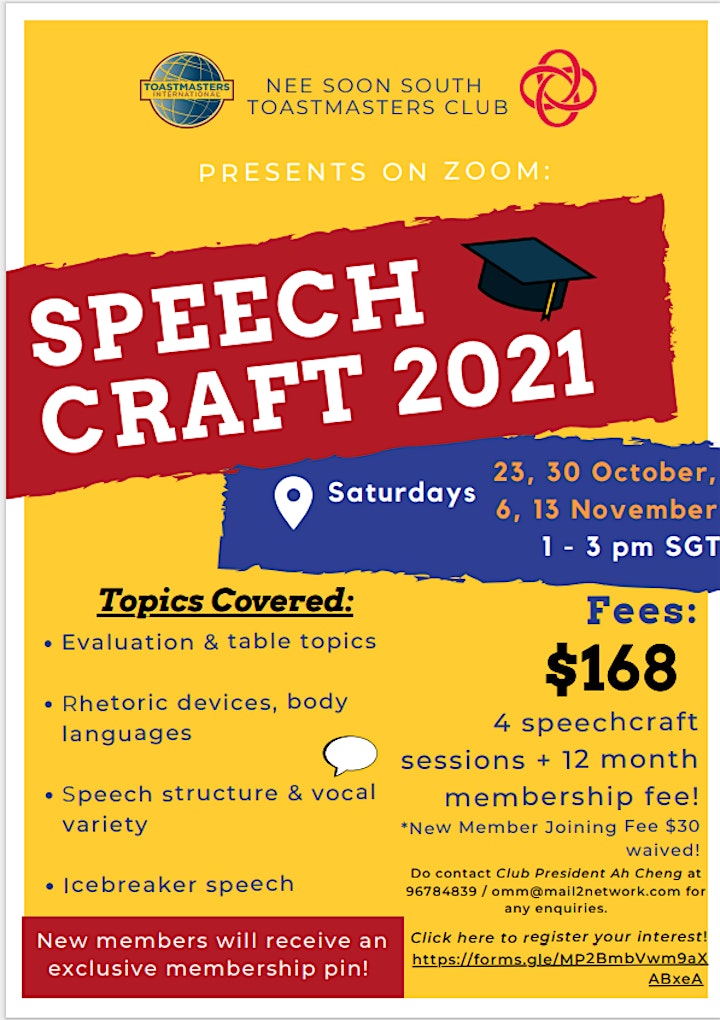 And we're back with Speech Craft again after 1 year! Calling out to all enthusiasts for learning, looking for a platform to hone your communication skills, to enhance and impact others with your leadership skills, and for anyone who likes to write, speak and inspire others with your words! Fret not, we'll be having experts from different areas (which we'll be covering in our Topics) to show and tell! They'll be interactive components with discussions, activities~ (not boring lectures 😆😚).
Sign up for Speechcraft via event brite and you shall get a $5 discount.
Send us a DM via Facebook or contact our President, Ah Cheng at 96784839 for more information, and we'll answer all your burning questions! 🙌🤗