NETWORKING WITH CONFIDENCE Workshop SG

Saturday, 27 May 2017 from 14:00 to 18:00 (Singapore Standard Time Singapore Time)
Event Details
Have you experienced any of these networking challenges?
・

Dislike attending networking events?
・ Feel awkward meeting strangers?
・ Lack the confidence to initiate conversations?



If you answered "YES", we can help you!



Interactive 4-Hour Workshop
Especially for introverts and those who want to improve their networking skills and face he next challenge to connect at future networking events or meetings.



In this workshop, you will discover HOW TO:
1. network effectively without feeling overwhelmed 
2. interact without feeling awkward
3. increase your visibility without being loud
4. enjoy future networking experiences
* You will take away practical tips and techniques to keep yourself motivated and having the right mindset for networking.
* Engaging

workshop which comes with activities and exercises to help you put into practice what you have learnt.



WORKSHOP OUTLINE
Introduction to the Real World of Networking

Objective and Goals of Attending Networking Events

Making Preparations – Choice of Events, Setting Goals, What to Bring? Self-Intrpductions, Conversation Starters

Event Proper – Meet & Greet, Who To Approach? What To Say? Mistakes To Avoid?

Post-Event: Follow-Up, Research, Appointments, Timeline




WHO WILL BENEFIT
This interactive workshop will benefit all levels of managers, section heads, executives and non-executives, as well as sales, business development, key account and client service personnel who have to mingle and develop contacts in today's highly connected world.

Your Facilitator, MERVIN YEO.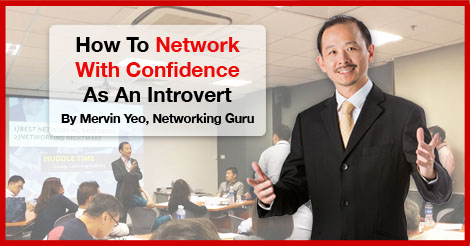 A Networking Evangelist, Mervin Yeo is a trainer, consultant, coach and author. Over the last 18 years, Mervin has shown over 10,000 business owners and marketing professionals in Singapore, Indonesia, Malaysia and the Philippines a systematic and effective approach to qualified business referrals.
Under his 13-year leadership as the Singapore National Director of the world's largest networking organisation specialising in referrals, members passed referrals which generated an annual average of USD20 million dollars worth of business for each other.

A networking coach to aspiring entrepreneurs and graduates entering the marketplace, Mervin lives and breathes as well as speaks and teaches the language of referrals. A Certified Behavioural and Career Consultant, Mervin is a sought after speaker and trainer on Purposeful Networking and Strategic Referral Marketing for career and business success.
Hailed a "Networking Guru" by a Straits Times writer, Mervin has been interviewed on NewsRadio 93.8 including The Living Room and Positive Business Minutes and was featured in Zaobao and SME Magazine. He has contributed scores of articles on the subject to Straits Times Recruit.
A contributing author in the New York Times best-seller Masters of Networking, Mervin is consultant and advisor to networking organisations and mentor to network influencers.
Mervin is the author of Purposeful Networking for Introverts and I Can Connect - An Introvert's Handbook To Stress-Free Networking, co-author of Turning Ideas Into Profit and author of which launched on 14 Oct 2014 and several other titles.
An Introvert Leader, Mervin founded and runs the Introverts Network Singapore — a quietly growing networking community of introverts in the marketplace. He has begun building similar communities in Jakarta, Malaysia and the Philippines.

TESTIMONIALS

"Mervin is lively and engaging. Through his enthusiastic and personalized, interactive mode of presentation, it widens the participants' scope to assert them to refresh their visions in the importance of networking in a highly competitive business environment whereby one's visibility and credibility would enrich them through the 'harvesting of seeds' in these bad times. I feel recharged and motivated after listening to him!" Jerome Ho, Entrepreneur

"Mervin really helps me to open up my mind to how to network with purpose and the true meaning of networking." Jason Lim, Asanoya Bakery

"The workshop is an eye opener to effective networking. It's a good workshop and those who intent to make networking their lifestyle should learn the skills shared in this workshop."Joanna Ng, Nuskin

"The way Mervin prepared and conducted the workshop was informative and very useful. Also, the inclusion of real life stories make the workshop even more engaging and interesting." Esther Lee, Manulife

"Mervin, I really want to thank you for the important lessons you shared. They are very meaningful and will last me a lifetime." Christine Bustamante, PAIA Consulting

"Mervin is the undisputed champion for the introverts. He addresses an area that is untouched or often misunderstood with the general public thinking that if a person is introverted, that means that particular individual does not valueor want to build new relationships which is far from the truth. Mervin provides practical and easy to implement advice and tools that will help introverts overcome their fears in networking and cross the hurdles stopping them from achieving success through networking." Jamie Lee, Director at Lunch Actually







When & Where

Oromo Coffee
100 Beach Road #01-41B
Shaw Tower
Singapore, Singapore 189702
Singapore

Saturday, 27 May 2017 from 14:00 to 18:00 (Singapore Standard Time Singapore Time)
Add to my calendar
Organiser
At MervinYeo.com, you will find:
a

networking expert

to advise or guide you to develop a networking plan, craft brief introductions or presentations, raise your self-confidence in networking.  We offer an initial complimentary consultation to selected individuals.

an

experienced trainer

on networking programmes to discover tools and techniques and sharpen your skills to network effectively.

a

dynamic speaker

on networking and personal marketing.
As a leading expert in business networking, Mervin and his hand-picked associates offer a variety of services related to purposeful and systematic networking as well as strategic referral marketing. From one-to-one interactions to group sessions, we offer consulting, coaching and training to enhance the networking experience for your career and business success