EXCLUSIVE Free 5 Day Challenge With Skip Archimedes - The Miracle Man
About this Event
WHAT YOU WILL LEARN FROM THIS POWERFUL 5 DAY CHALLENGE BY THE MIRACLE MAN
Day 1 - The Body You Deserve - Movement & Nutrition
Day 2 - The Power Of Your Mind - Learn how to take control of your focus because where focus goes energy flows
Day 3 - Manifesting More Money - Learn to create with abundance by being in true alignment
​Day 4 - Strong, Powerful, Loving & Meaningful Relationships - Creating loving not toxic relationships with yourself, others and life
​Day 5 - Universal Power - Learn how to have the power that creates worlds, breathe through you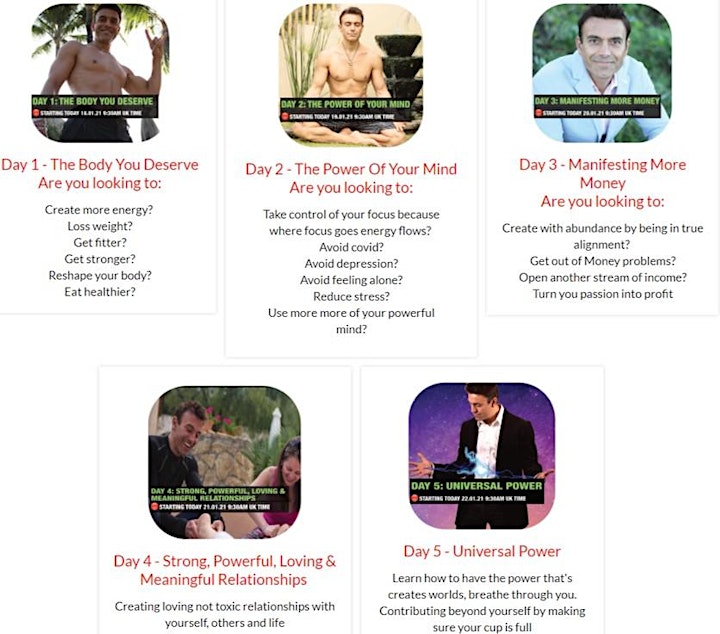 IN THIS CHALLENGE YOU WILL LEARN:
What it takes to create a life by your design, which is needed more then ever in these challenging times. The winners of life know how to plan with precision, execute action steps elegantly, adapt quickly and reap the many rewards.
This is a time of change and applying what Skip Archimedes will be teaching can open you up to an amazing quality of life for you and your loved ones. You have so many skills, talents, attributes within you already but these must be activated. Otherwise they are more likely to be deactivated which destroys the quality of ones life.
What you'll be learning is proven to work all over the world for experts in the fields of expertise, top athletes, celebrities and people just like you.
Places will be limited so REGISTER NOW to avoid disappointment.
*5 DAYS CHALLENGE - SUPERCHARGE YOUR 2021 by Skip Archimedes*
MON 18 JAN-FRI 22 JAN
GMT 9.30AM
IT'S TIME FOR THE NEXT LEVEL YOU – ARE YOU READY?