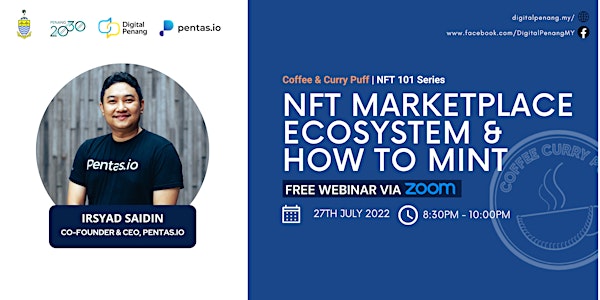 NFT 101 | NFT Marketplace Ecosystem & How To Mint
You don't have to be an artist or tech-savvy to create your own NFT. Come and join us on the journey.
About this event
About this event
Non-fungible tokens (NFTs) seem to be everywhere these days. From art and music to tacos and even selfies, these digital assets have been sold for millions of dollars. But are NFTs worth the hype? How do I start minting my own NFT? Where should I do it and sell it?
NFT has been one of the hottest topics in the current era, so we are giving everyone the chance to see how NFT works and how they can be a creator themselves.
Join us on July 27, 2022, with Pentas, discover what the NFT platform does, and learn how to mint your own NFT.
About Speaker:
Pentas was established by a group of like-minded people who yearn to advocate and educate the masses about blockchain technology. Public advocacy has been the fundamental motivation for the Pentas team. Pentas understands how crucial it is for the community to be educated regarding new technology.
Pentas aspire to be the community mover, the leading catalyst that spearheads this tech revelation and revolution. Pentas focus on bridging and highlighting culture and heritage through digital art. Blockchain technology has enabled this to be a reality. This allows the continuity of the legacy for the next generation to appreciate the fundamentals of life and how they can be preserved and acknowledged.
Therefore, Pentas came up with the NFT Marketplace platform as an enabler for all the creators and artists to express their talents to spread their inner thoughts and messages via their crafts. Further, it can be stored and protected via blockchain technology.