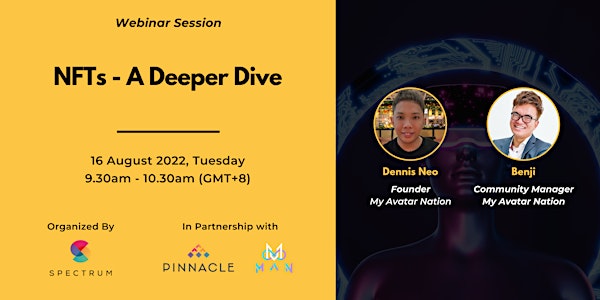 NFTs - A Deeper Dive
We take a deeper dive into the world of NFTs and understand how organisations can incorporate them into their businesses.
About this event
Non-Fungible Tokens (NFTs) are fast becoming a hot topic, from online chat rooms to the boardrooms. In 2021, NFT trading hit USD17.6 billion, a staggering 21000% increase from 2020's USD82 million. With its astounding growth and potential, many companies from the likes of Coca-Cola, Nike, Times, WWE, and many more have jumped on the NFT bandwagon, with varying success.
In this webinar, My Avatar Nation (MAN) share some guiding principles businesses should have in mind when considering incorporating NFTs into their business and their journey in creating a NFT brand.
Dennis Neo, Founder, My Avatar Nation
A veteran in the Web3 space, Dennis is the founder of My Avatar Nation (MAN) – the world's first cultural-themed NFT. He is a passionate and firm believer of the potentials of NFTs and is fully committed in ensuring MAN becomes a leading brand in the NFTs Industry. As a strong advocate for Singapore's Web3 scene, he shares his experience within the NFT space with the aim of bringing the community closer as they work towards making Singapore the Web3 hub of the region.
Benji, Community Manager, My Avatar Nation
Benji has been a neophiliac to all things Web3 since 2020 - from buying his first crypto and NFT to losing them, he has seen it all. Coming from a marketing and social media background, Benji used his own experience and unexpectedly ended himself helping communities to grow and gradually becoming a Community Manager. Constantly helping communities to grow is what he likes to do and learning constantly about the Web3 space while working with different partners and communities, he is determined to grow My Avatar Nation into a project that is unforgettable.
My Avatar Nation (MAN)
My Avatar Nation merges the exclusivity of NFTs with important community values. They aim to connect people from all around the world and create social activities not only in the digital world but also in the real world. Their core mission is to bridge the gap between virtual and reality and provide real utility to our members using blockchain technology through MAN's NFTs.
Learn more, https://myavatarnation.io/