Description


No.1 Mistake People Make When Using Law of Attraction
Are you guilty of this mistake and that's why you are Not achieving the results you truly desire? Realize that you Can work with Law of Attraction rather than work against it! It's the same as Law of Gravity; not knowing it doesn't mean you are exempted from the effects of gravity.
Law of Attraction; is it true?
Bob Proctor who was the face and star of the worldwide phenomenon The Secret said, "It's not Necessarily True. Why did Bob Proctor, the star of The Secret say otherwise? Is there really a secret behind the Law of Attraction?
Be More Earn More Do More
"It's now My time, I Want to Live the Life I Truly Desire. Not how others' think I should be living My Life." If you really want to live your life, take action & RSVP today!
RSVP for a 2-hour packed workshop to learn
1) What makes other people successful & why not Me?
2) The #1 thing that is keeping me away from achieving my goals & my desires.
3) 3 income earning strategies I need to know as it was never taught in school
AGENDA:
11:07 AM - 11:45 AM :
Power of my Mind & Why it Determines my Success
11:45 AM - 12:00 PM : Grab a quick bite
12:00 PM - 1:00 PM :

My Mind is the Secret to Earning More Money & Create the Lifestyle That I Truly Desire
PS: We will start at 11:07AM sharp
PPS: This is a payable event. Only for those who are genuinely interested. Includes worksheet & workbook to take home.
Feedback from attendees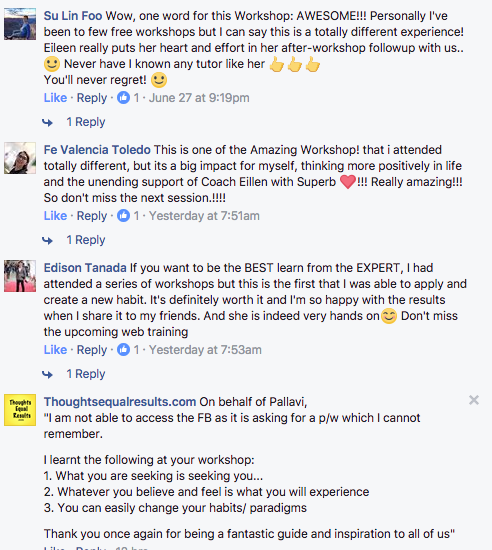 Attendees from previous workshops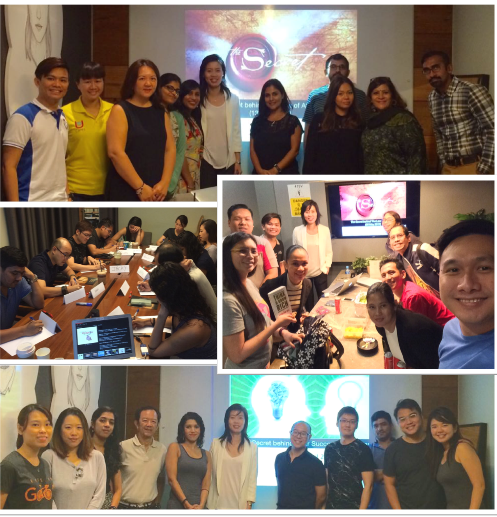 About the speaker
Eileen is the first Proctor Gallagher consultant in Singapore to been mentored by both; Bob Proctor and Sandy Gallagher to help individuals to finally get unstuck and achieve true forward momentum.
In 2015, while Eileen was working for a multinational company she enrolled for Bob Proctor Coaching 13-Months Program. Shortly after Eileen met Bob Proctor in person in Los Angeles, she decided to be a certified PGI consultant. As it allows her to work with individuals to set them up for instant and lasting success through a step-by-step program; 'Thinking into Results'.