Description
Novena: Art Course (Watercolour Painting - Intermediate Level) May 15 - Jul 10 (Wed)
(*Seniors enjoy a National Silver Academy subsidy)
Embark on an artistic journey using watercolours to create beautiful landscapes and cityscapes. In this course, you will deepen your knowledge about watercolours and learn how to work with this versatile medium to develop your own artistic style. In addition, you will learn about composition, understanding perspective, and combining watercolour with other mediums.

Pre-requisite: Not suitable for Beginner. For students who have attended watercolour classes at Brahm Centre.
Dates: May 15, 22, 29, Jun 12, 19, 26, Jul 3, 10
8 Sessions (Wed)
(no class on Jun 5)

Time: 7pm-9pm
Course Fee: $240 ($48 for eligible seniors*)
Material Fee (for those who require): $35

(Minimum 10 students to start class)
---
Items to bring:
(Please purchase the items in Material List 2 on your own, which can be purchased from stationery shops, art supply shops, and/or Daiso. For Material List 1, please indicate in the Ticket Order form if you require us to purchase on your behalf.)
Materials List 1
1. Watercolour paper, 100% cotton, cold pressed, 300 gsm, 20 sheets
2. Watercolour brushes, set of synthetic and/or natural hair brushes (flat, round sizes 6 and 10, mop)
3. Watercolour paint, set of minimum 12 colours. Good student grade (e.g Cotman, Rembrandt, Pentel, Sakura)
4. Palette with lid
Materials List 2
1. Masking tape (1 inch width)
2. Water container (preferably those with 2 or 3 compartments)
3. Masking fluid, any brand
4. Small (e.g #4 round) cheap synthetic brush for applying masking fluid
5. Corrugated plastic board (A3 size)
6. Paper kitchen towels
Most of the materials in Lists 1 and 2 could be purchased from stationery shops, art supply shops, and/or Daiso
---
About The Instructor
Mabel Yap is a watercolour artist, calligrapher and certified Zentangle® teacher, and a member of the Singapore Watercolour Society. She has been painting for about 10 years, and enjoys painting landscapes, florals and cityscapes. She has taught watercolour painting and Zentangle to more than 500 students since 2014.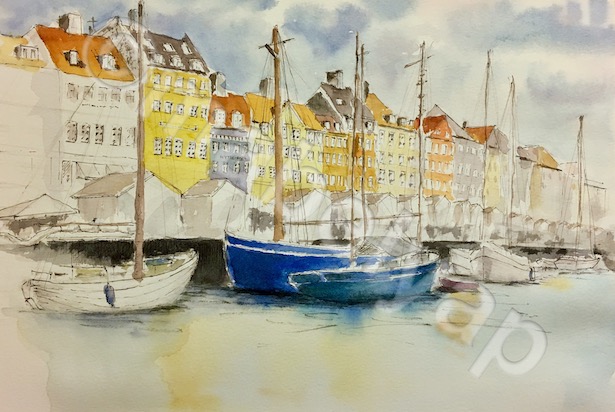 ---
* National Silver Academy (NSA) subsidy
- The NSA subsidy is for Singaporeans and Permanent Residents aged 50 and above.
- Arrive 30 minutes before class starts to complete the application process.
- Sighting of NRIC is required on the first day of class for verification
- Participants who do not fulfill the above criteria will not be eligible for NSA funding and will be required to pay the course fee in full; no refunds will be provided.
---
Please Note:
- ALL PAYMENTS ARE NON-REFUNDABLE
- Switching course dates: $30 admin charge plus any fee difference