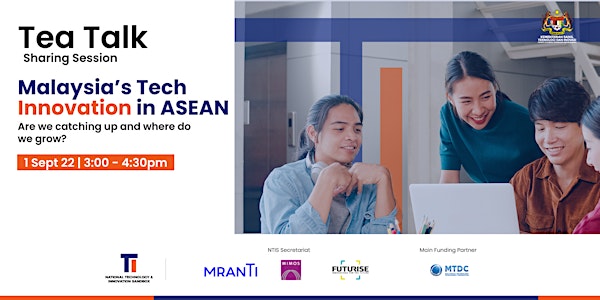 NTIS Tea Talk 2: Malaysia's Tech Innovation in ASEAN
Are we catching up and where do we grow?
About this event
Join us for the second installment of the series of NTIS Tea Talk featuring speakers from Richard Ker Digital, Malaysian Industrial Development Finance Berhad (MIDF), Malaysian Investment Development Authority (MIDA) and PT. Ruang Kreasi Berdaya Indonesia (KUMPUL) happening soon. Stay tuned for more series geared toward accelerating your growth and journey to Start, Build, Grow & Commercialise.
Date: 1st September 2022
Time: 3:00pm - 4:30pm
Mode: Virtual via Zoom
Speakers :
1) Richard Ker
Founder, Richard Ker Digital
Former Chief Marketing Officer, Aerodyne Group
2) Max Azaham
Senior Vice President, Head Digital Business Division, MIDF Berhad
3) Hadi Shafie Othman
Managing Director, KUMPUL Indonesia
4) Syed Kamal MuzaffaDirector Advanced Technology and Research & Development Division, MIDA
Moderator:
Ainsya Mydiana (Moderator)
Manager Partnership, MRANTI