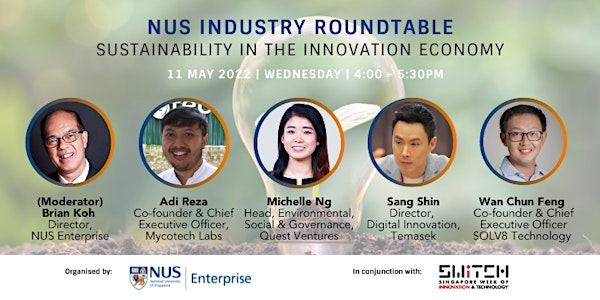 NUS IRS - Sustainability in the innovation economy
NUS Industry Roundtable Series is a platform for in-depth discussion and exchange of knowledge amongst start-ups, researchers, and industry.
About this event
About this NUS Industry Roundtable
New capabilities brought about by technology and innovation have created a new generation of products and services that use less resources, are more energy-efficient and sustainable in nature. With the emergence of an innovation economy and especially a highly globalised one, what are the trends and game changer in the market?
Join us and our specially curated panel of experts to deep dive into the topic of innovation economy and sustainability, and glean insights on opportunities and challenges that may arise.
This event is brought to you by NUS Enterprise, in conjunction with SWITCH Singapore.
Our curated panel of speakers include
Moderator: Brian Koh, Director, NUS Enterprise
Brian is a Director with NUS Enterprise, and oversees Ecosystem Development, Digital & Data Infrastructure, and Corporate Partnerships & Program. He has been involved in building up the eco‐system supporting the startups and entrepreneurs both on and off‐campus & regionally, establishing the infrastructure, programs and networks for the eco‐system. This includes building up BLOCK71, which has now become part of the JTC Launchpad area; an iconic entrepreneurial space in Singapore. He has been actively involved in building up "deep‐tech" startups and of late having a keen interest in Foodtech, Agritech and Aquatech. Brian also oversees the Innovation for Societal Impact team with a purpose to see Innovation and Entrepreneurship enterprises with a heart. Prior to NUS, Brian together with some friends were involved in pioneering Adroit Innovations from a start‐up company to be a publicly listed company on the main board of the Singapore Stock Exchange in 2000. In his last position in Adroit, Brian headed and led the Malaysia operations, sales & marketing, and general management activities.
Panelist: Adi Reza, Co-founder & Chief Executive Officer, Mycotech Labs
Adi is the co-founder and CEO of MYCL, a biotech startup that produces sustainable material for the global market. MYCL provides high-performance and low-impact bio material for fashion and building applications.
Graduated from the School of Architecture, Bandung Technology Institute (ITB) in Indonesia, Adi has been passionate about entrepreneurship since early days. He was previously Co-founder & Creative Director of Growbox, a company that provides do-it-yourself mushroom growing kit. Together with the co-founders, Growbox pivoted as MYCL (or also known as Mycotech) in 2015. Under his leadership, MYCL has been recognized both locally and internationally such as 2017 Architecture & Urban Design Biennale in Seoul, 2018 DBS Social Enterprise Awards, and 2019 MIT Solve Circular Economy Challenge. Adi is also Australia Awards Scholars for its short term program in 2018, focusing on International Business Readiness at the Queensland University of Technology.
Panelist: Michelle Ng, Head, Environmental, Social & Governance at Quest Ventures
Michelle Ng is Head of Environmental, Social & Governance at Quest Ventures, a top venture capital firm in Asia. She works closely with startups to accelerate their growth through a combination of incubation services and programmes. She is also responsible for key markets in Southeast Asia and emerging Asia. Prior to this, Michelle was responsible for international startup ecosystem networks at the Action Community for Entrepreneurship - Singapore's national entrepreneurship ecosystem builder - where she engaged startup communities in North Asia and Southeast Asia with market access and regional innovation initiatives, and in so doing anchored Singapore as Asia's hub for entrepreneurship.
Panelist: Sang Shin, Director, Digital Innovation at Temasek
Sang Shin is currently the Director of Digital Innovation at Temasek where he created HyperX, one of the world's first hackathon-cum-accelerator focused on sustainability, and provides startups a pipeline to materialise raw ideas up till the Series A stage.
In 2013, Sang co-founded Been, Inc. and developed the world's first and only mobile app, Been Choice, that enabled users to monetise and take control of their personal data and privacy, blocking personal data collection and advertising from all mobile websites and mobile apps on iPhones. However, after the Been Choice app was banned by Apple due to the disruptive threat it posed to the digital advertising industry, Sang decided to move to Singapore to help develop the regional startup ecosystem in Asia.
Panelist: Dr Wan Chunfeng, Co-founder and Chief Executive Officer, Solv8 Technology
Dr. Wan Chunfeng is the co-founder and CEO of SOLV8 Technology, a deep-tech startup that applies membrane technology for sustainable separations and reuses of organic solvents and chemicals. He was award Forbes 30 under 30 and MIT Technology Review Innovator under 35 for his work on new membrane technologies.