Description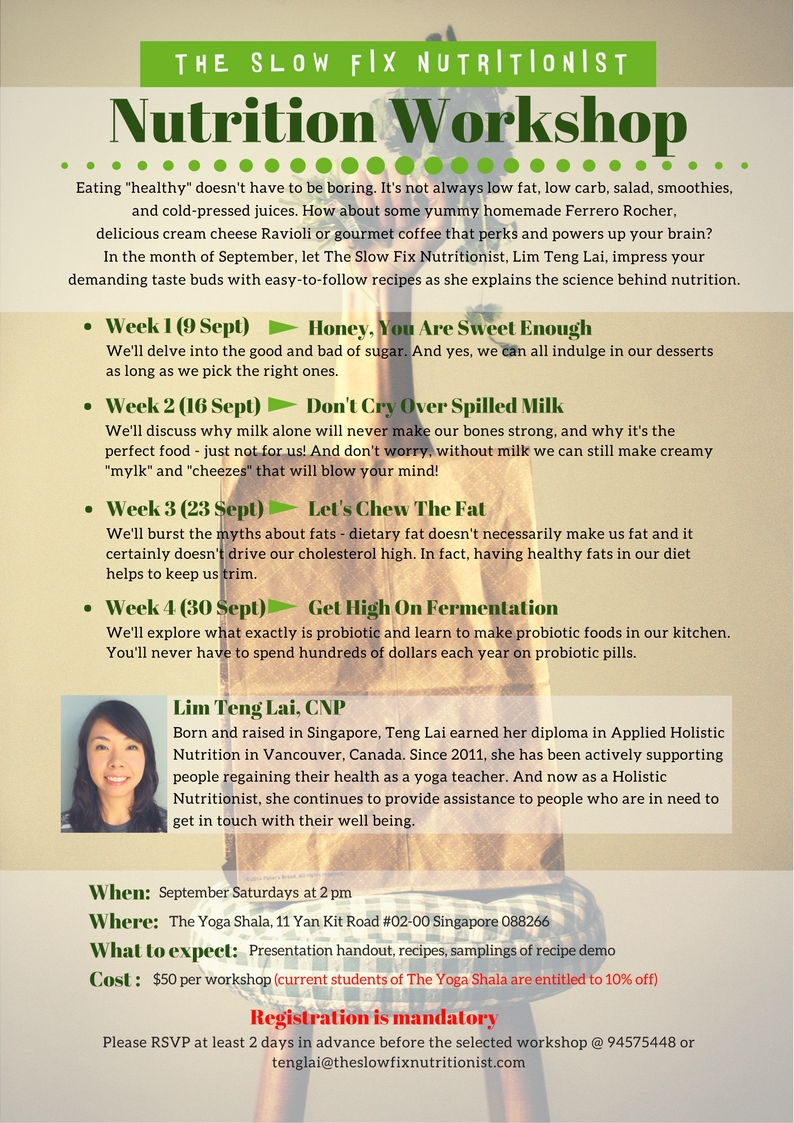 Never been to a Nutrition Workshop? It's fun, informative and you'll get to learn and sample lotsa easy-to-follow recipes! Come join the fun at The Yoga Shala on September Saturdays at 2 pm!
9 Sept Honey, You Are Sweet Enough
Ever wonder exactly how much sugar is in your daily diet? And is diet coke healthier than regular coke since it's "sugar free"? We'll delve into the good and bad of sugar. And yes, we can all indulge in our desserts as long as we pick the right ones.
16 Sept Don't Cry Over Spilled Milk
Is milk really necessary in our diet? Without it, wouldn't our bones be brittle? Let's discuss why milk alone will never make our bones strong, and why it's the perfect food – just not for us! And don't worry, without milk we can still make creamy "mylk" and "cheezes".
23 Sept Let's Chew The Fat
It's time to put a stop to that low-fat diet. Dietary fat doesn't necessarily make us fat and it certainly doesn't drive our cholesterol high. Instead, having healthy fats in our diet helps to keep us trim.
30 Sept Get High on Fermentation
We'll explore what exactly is probiotic? Do you know that we can easily make probiotic food in our kitchen? Learn how to make sauerkraut and kimchi and save on that hundred dollars bill on probiotic pills.
Cost: $50 per workshop

RSVP: Registration is MANDATORY, sign up with Teng Lai now @ 94575448 or tenglai@theslowfixnutritionist.com