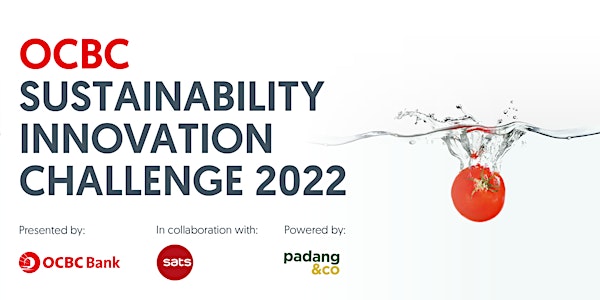 OCBC Sustainability Innovation Challenge: Info Session
This event will introduce the theme and challenge statements of the OCBC Sustainability Innovation Challenge to prospective participants.
About this event
The OCBC Sustainability Innovation Challenge 2022 is a key initiative for OCBC Bank to lead and sponsor innovative solutions for sustainable innovation in the region by working closely with their business partners and stakeholders in the ecosystem.
In this inaugural edition, OCBC Bank is collaborating with SATS to address challenges in food production, chiefly the management and reduction of food and packaging waste. The challenge invites innovative companies to propose tech-enabled solutions to address the following challenges statements:
1. Segregate and Treat Mixed Waste
2. Turn Waste into Energy or Other By-products
3. Create Circularity of Consumer Products
The OCBC Sustainability Innovation Challenge also aims to help the broader food ecosystem reduce the proportion of wastage in food production by creating new, disruptive solutions.
This Info Session will explore the challenge objectives, challenge statements, and process in greater detail, and provide participants an opportunity to ask questions.
For more information, you can visit our website at https://bit.ly/osic-2022. Please send us your questions at info@padang.co.